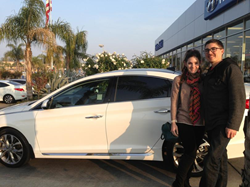 Our clients are happy because they could win a gift card or car payment, and we're happy because our clients are sharing their experience with us on social media
Bakersfield, CA (PRWEB) February 20, 2015
An exclusive opportunity from Bakersfield Hyundai gives guests the chance to win a complimentary car payment - simply by sharing a photo of their recently acquired vehicle on Facebook. Following the early January purchase of a 2015 Hyundai Sonata 2.0T, Jennifer Landers of nearby Porterville became the first official prize recipient in this contest offered by the Bakersfield area dealership. Landers, who posted an image of her new vehicle on Facebook via SPARQ, will garner a car payment worth up to $500 for the amount of social engagement that occurred on the shared photo.
Bakersfield Hyundai utilized SPARQ, a new social media platform that strengthens word-of-mouth advertising and online interaction for automotive dealerships, to execute the already-successful contest. SPARQ allows store sales personnel to capture images of guests alongside their new vehicles, then quickly send them to guests for easy social media sharing. When the guest's social network interacts with the photo on Facebook through the SPARQ plugin, the guest is eligible to win prizes - in Landers' case, a car payment from Bakersfield Hyundai.
"SPARQ helps us give real rewards to clients in just a few simple steps," noted Bakersfield Hyundai's General Manager, Patrick Beck. "Our clients are happy because they could win a gift card or car payment, and we're happy because our clients are sharing their experience with us on social media."
While Landers is the first to receive the complimentary monthly payment, it is certainly expected that she will not be the last. The top-rated dealership expects to draw guests from neighboring areas, including Wasco, Shafter, McFarland, Oildale and Delano who may be interested in the exciting - and easy - opportunity to become a winner. For further information on eligibility and rules, please call or visit Bakersfield Hyundai.
About Bakersfield Hyundai:
Owned by parent company WaltersBayer Automotive Group, Bakersfield Hyundai is dedicated to providing a superior new and used car buying experience in the greater Bakersfield area with the help of its experienced, knowledgeable and patient team that focuses on putting the customer first. With highly-regarded service, an unsurpassed selection and incredible prices, Bakersfield Hyundai is the #1 dealership of its kind in its community.
About SPARQ:
SPARQ is transforming word-of-mouth advertising for automotive dealerships. It makes it simple for businesses and customers to share photos and build engagement by combining Facebook, email marketing and the clients' own social network. Businesses who use SPARQ report 421% more effective results than standard platforms.