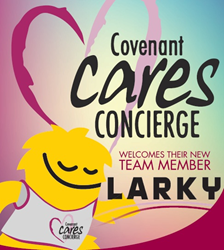 Balance Concierge increases employee engagement at Covenant HealthCare.
Lansing, Michigan (PRWEB) July 02, 2014
Larky, the free mobile service that helps busy people get every benefit they deserve from their memberships and employers, has teamed up with Balance Concierge, a national healthcare concierge and engagement strategy company, to drive engagement and increase awareness for Covenant HealthCare employees. Three years ago Covenant Cares Concierge was implemented by Balance Concierge as a unique, onsite work life benefit to help save employees time and money. Since August of 2011, over 15,000 requests have been fulfilled for 60% of Covenant HealthCare's employees. The new partnership with Larky will help employees stretch their pay check even further by increasing access to the almost 200 local discounts available through Covenant Cares Concierge. "We are very excited to partner with Larky to offer Covenant HealthCare employees easy, 24 hour access to benefits offered through their C3 program. We believe this addition will further enhance employee engagement," said Judy Foley, Chief Executive Officer at Balance Concierge.
After downloading the Larky app users can view, search, and browse all of their discounts from more than 2,000 organizations including Covenant Cares Concierge, entertainment venues, professional associations, and GPS technology enables users to receive alerts on their smartphones when they are physically near an opportunity to save. "This partnership aligns extremely well with Balance Concierge and the high level of customer service they have been providing the Covenant team. Larky expands this level of service while driving increased awareness and engagement through use of our mobile app and location awareness technology," said Gregg Hammerman, co-founder of Larky.
Covenant HealthCare employees, through Balance Concierge, enjoy benefits at amazing locations like Great Wolf Lodge, Mission Point Resort (Mackinaw Island), Saginaw Athletic Club, Detroit Zoo and nearly 150 more. Further, the application alerts are customizable, and allow users to add other national memberships, such as Costco, CVS, Kroger, AARP, USAA, and more.
About Balance Concierge
Balance Concierge provides innovative engagement and experience solutions for healthcare systems nationally. Through customizing services for employees, physicians and patients, Balance helps its partners achieve key objectives of furthering patient satisfaction, employee and physician engagement, recruitment, and enhancing retail revenue generation. Learn more about Balance at http://www.balanceconcierge.com.
About Larky
Larky drives engagement and loyalty for leading organizations and employers. By developing amazing perk and benefits programs Larky increases awareness and usage through a proprietary mobile and web platform. Free web and mobile tools send users reminders at the right time and place so they don't miss an opportunity to save. Find out more at http://www.larky.com or download Larky today at http://appstore.com/Larky.