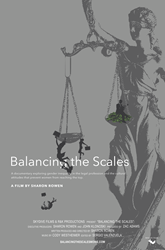 Atlanta, Georgia (PRWEB) June 08, 2017
As a lawyer for 38 years and a documentary filmmaker for 20 years, Sharon Rowen was in a unique position to create a documentary film about gender equity in America. Balancing the Scales delves into the challenges women lawyers have faced historically and still face today, including the additional hurdles faced by women lawyers of color. Many prominent lawyers and judges tell their stories, including Ruth Bader Ginsburg and Gloria Allred. Through candid and often humorous conversations, the film illustrates how our culture has accepted less than full equality for women and how few women lawyers have really broken the glass ceiling. It explores how the intersectionality of gender and race creates additional challenges, and what we as a society can do about it. "Viewers may be surprised that even women lawyers have to fight for their rights," says film director Rowen. It features inspiring stories by women lawyers of all ages who work tirelessly to help women and girls worldwide, including Leah Ward Sears, retired chief justice of the Georgia Supreme Court, and Layli Miller-Muro, founder of the Tahirih Justice Center.
Balancing the Scales will broadcast on more than 260 public television stations nationwide for a two-year period, beginning July 2, 2017. This includes virtually all of the top TV markets in the United States, including New York City, Chicago, Los Angeles, San Francisco, Atlanta, Miami and Indianapolis. The June 29, 2017 screening at the Core Club in New York will feature Star Jones moderating the panel discussion following the screening.
Balancing the Scales has been screened by national and international corporations, law firms, and organizations. Viewers say Balancing the Scales is "phenomenal" and "inspiring". The message resonates not just with women lawyers, but with men and women in all walks of life.
For more information about the film and to view the film trailer, please visit the film's website:
http://www.balancingthescalesmovie.com
Sharon Rowen of R&K Productions, LLC:
R&K Productions, based in Atlanta, Georgia, is a film production company led by attorneys Sharon Rowen and John Klonoski. Its primary focus is production of documentary films about issues of social justice. Sharon Rowen co-produced and directed the film.
Producers and Editors:
Award-winning filmmaker Zac Adams co-produced the film with Sharon Rowen. His previous work includes the Midsouth Emmy Award winning documentary "Hunger in America", narrated by James Denton, and "Autism in America", narrated by Chandra Wilson. Award-winning filmmaker Tim VandeSteeg of Indiewood Pictures has also joined the film as associate producer. His past films include the 10-time award-winning documentaries "The Eyes of Thailand", narrated by Ashley Judd, and "My Run", narrated by Academy Award winner Billy Bob Thornton. Zac and Tim produced "Iron Will: Veterans' Battle with PTSD", narrated by Billy Bob Thornton and directed by Sergio Valenzuela, editor of "Balancing the Scales". The film's executive producers are Sharon Rowen and John Klonoski.
Facebook Page: https://www.facebook.com/balancingthescalesmovie/
Twitter: https://twitter.com/Pushtheceiling
###