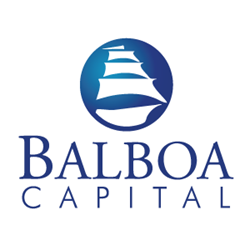 We have the funding capacity and proven track record of success that corporate clients and Fortune 1000 Companies expect
Irvine, California (PRWEB) January 14, 2014
Balboa Capital, a leading provider of commercial financing and commercial business loans, today announced that it has expanded its large ticket financing division. The company added 15 highly experienced finance managers to keep pace with the growing financing needs of large companies and corporations throughout the United States.
"The recent expansion of our Enterprise Sales Division reflects our rapid growth in the large ticket arena and demonstrates our commitment to providing large companies with the flexible financing solutions they need," said Michael Bivins, Director of Sales for Balboa Capital's Enterprise Sales Division. "We have the funding capacity and proven track record of success that corporate clients and Fortune 1000 Companies expect." Balboa Capital acquired new office space at its Irvine, California headquarters to accommodate the growth of its Enterprise Sales Division.
The Enterprise Sales Division at Balboa Capital facilitates financing transactions from $100,000 to $50 million for companies in a diverse variety of industries, including manufacturing, aerospace, construction, telecommunications and technology. Balboa Capital's web-based financing tools and dedicated large ticket credit experts and customer service specialists help reduce the administrative burden for businesses. The end result is a highly efficient and streamlined financing process from start to finish.
For more information about Balboa Capital's large-ticket financing capabilities, which include capital equipment financing, operating leases and lease lines of credit, contact Michael Bivins at (949) 553-3463 or via email at michaelkb(at)balboacapital(dot)com.
About Balboa Capital
Balboa Capital is one of the largest privately-held independent finance companies in the United States delivering access to capital, speed of processing, dependable funding, industry-leading technology and innovative marketing tools that small and medium-sized customers require to fuel their growth and success. Established in 1988, Balboa Capital markets its products through their small ticket, middle market and vendor sales channels. In addition to large-ticket financing, the company's capabilities include equipment leasing, franchise financing, small business loan products and equipment vendor financing. You can learn more about Balboa Capital by visiting http://www.balboacapital.com.