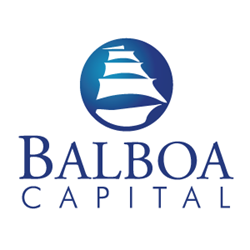 Providing outstanding customer service is a long-standing commitment at Balboa Capital. We will continue to reach out to our valued customers and vendor partners to measure our performance
Irvine, CA (PRWEB) April 02, 2014
Balboa Capital, a leading independent provider of equipment financing and small business loan products nationwide, announced today the results of a comprehensive customer satisfaction survey of over 2,000 small business owners and equipment vendors and is pleased to report increased levels of satisfaction in customer support, financing capabilities, and overall performance.
Balboa Capital conducted the survey to gauge customer satisfaction and loyalty, and to see if the company's industry-leading financing tools and internal processes are being well-received. Balboa Capital has a longstanding history of adapting quickly to the financing needs of US businesses. The company continues to invest in its operational departments and implements new systems and technologies that are required to provide the highest level of customer support possible.
"Our survey gives us a real-world perspective of how we are performing in all areas of our business," said Carla Freberg, Sales Manager for Balboa Capital's Vendor Services Group. "We are pleased at the high number of customers that participated and the overwhelmingly positive feedback they conveyed. The information they provided shows that we are delivering on our value proposition to small business owners and equipment vendors every day."
Following are some of the key results of Balboa Capital's customer satisfaction survey:

98.5% gave Balboa Capital the highest customer satisfaction ranking
97.4% stated Balboa Capital met or exceed their expectations
97.9% said they would recommend Balboa Capital to other businesses
Business optimism is improving in 2014 and more business owners are seeking to make capital equipment investments. Balboa Capital has added staff members to each of its sales divisions and made significant investments in web-based technology in order to meet these demands. "Providing outstanding customer service is a long-standing commitment at Balboa Capital. We will continue to reach out to our valued customers and vendor partners to measure our performance," said Ms. Freberg. You can watch Balboa Capital reviews on the company's YouTube channel.
About Balboa Capital
Balboa Capital is one of the largest privately-held independent finance companies in the United States delivering access to capital, speed of processing, dependable funding, industry-leading technology and innovative marketing tools that small and medium-sized customers require to fuel their growth and success. Established in 1988, Balboa Capital markets its products through their small ticket, middle market and vendor sales channels. The company's capabilities include equipment financing, large ticket financing, commercial financing, small business loan products, franchise financing and equipment vendor financing. For more information, visit http://www.balboacapital.com.