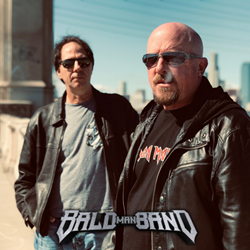 CINCINNATI (PRWEB) April 17, 2019
Emerging rock group Bald Man Band has released its second single of 2019, "Southbound," along with an accompanying music video. The duo is releasing one single and video monthly leading up to the release of their debut album Music for the Rest of Us, which drops in July. Bald Man Band is comprised of front man Kurt Deimer and guitarist and producer Ben Trexel, who teamed up in late 2018 and immediately became a creative force.
"Southbound" tells the story of a man getting back to what he loves after time spent away from home. It's a relatable classic rock song anyone can sing along to and is a departure from the album's first single, "Welcome to the Night," a rock ballad with dark undertones. These first releases showcase the band's versatility and passion for creating its own music. "We feel it in our souls and bring real life to the forefront in the form of a great song. Our music is about having fun, being free and living life," said Deimer.
The video for "Southbound" takes viewers on a trip that follows Deimer as he travels South through Cincinnati, then downtown Nashville and finally home to the quiet of his country farm. "As you're watching, you may think you know what's going to happen – but there's a twist at the end," Deimer teased. Watch the video on the band's YouTube Channel.
"Southbound" was produced by M.A.D. (Music Artist Development) out of Birmingham and shot by Film Farm Studios. Bald Man Band wishes to also recognize Chris Brown with Muletown Historic Farm in Columbia, Tennessee, Harley Davidson of Columbia, Tennessee, and Starfire Premium Lubricants.
In addition to Bald Man Band, Deimer works as a jack-of-all-trades and entrepreneur on various projects as an actor, filmmaker and host of the podcast "Beers with Bald Man." He's known for his roles in the 2018 film Halloween and most recently Trading Paint starring John Travolta. In addition, he stars in the series Eye for an Eye coming out this year, and is the lead actor and producer for the horror film Hellbilly Hollow, coming out October 2019. He will also be writing the film's original score with Trexel. View Deimer's acting career on his IMDB profile.
Deimer is also the owner of the oil distribution companies PennStar, Panther Petroleum and Coolants Plus with its #1 selling oil product Starfire, which is distributed nationwide. He's an advocate within his community as an active supporter of our nation's veterans, child sex abuse awareness and prevention, and ending violence against women. In fact, a portion of the proceeds from the band's productions support Keeping the Flame Foundation, The L Foundation, The Mama Bear Effect and the YWCA.
Trexel is a music producer, mixer, composer, guitarist and consultant with more than 30 years of experience in the music business. Before becoming an independent producer, Trexel engineered recordings for Train, Brandi Carlisle, Zac Brown Band, Duncan Sheik, Paul Thorn, Fuel, Three Days Grace and many more. As an instrumental composer, Trexel has contributed to original music for TV and film and produced music for two Emmy nominated documentaries. He has also released three solo albums as an instrumental guitarist.
If you would like more information about Bald Man Band or want to schedule an interview, please contact the band's manager Matt McFarland at 513-403-3489 or matt(at)kurtdeimer.com.