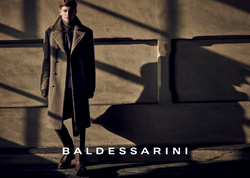 BALDESSARINI stands out as a designer collection geared to the biggest male market in the history of the U.S., almost 40 million consumers — Generation Millennial," said John McCoy, Components by John McCoy, NYC.
New York, NY (PRWEB) January 18, 2017
BALDESSARINI, the international premium fashion brand owned by the Ahlers AG menswear company, one of Europe's largest, launches its BALDESSARINI NA collection to U.S. retailers with the Fall 2017 collection. The BALDESSARINI NA collection debuts in the U.S. at the MRket trade show's Vanguards Gallery being held at the Jacob Javits Center, in New York City, January 23-25.
"BALDESSARINI for Fall 17 stands out as a designer collection geared to the biggest male market in the history of the U.S., almost 40 million consumers — Generation Millennial," said John McCoy, who heads BALDESSARINI NA's U.S. sales at his Components by John McCoy showroom in New York City. "For this younger thinking fashion consumer, BALDESSARINI offers great quality, fashion correct, stand apart products that are not disposable."
The highly sophisticated, smartly edited collection provides an accessible luxury menswear option at affordable prices and rooted in the brand's core features — uncompromising quality, exceptional materials, outstanding workmanship and distinctive style.
Silhouettes ranging from classic tailoring to casualwear are designed for ultimate comfort, aimed not at fast-moving trends but rather at becoming true companions and personal favorites. Innovative fabrics with a beautiful hand from Biella and Europe's finest fabric producers are used almost exclusively. The collection blends classic and casual, urban and outdoor influences, suiting and knitwear, formal tailoring and Athleisure, natural and technical fibers, and innovative patterns and finishes. Tailored and unconstructed shapes offer a focused attention to detail in their manufacture including hand-sewn aspects.
Werner Baldessarini created the brand that bears his name in 1993 as the luxury line of Hugo Boss Ag. In 2006, BALDESSARINI became part of the Ahlers AG brand portfolio, and has been presenting at Pitti Uomo in Florence, Italy, including its most recent January event and has shown at Berlin Fashion Week.
BALDESSARINI's pedigree manufacture and history are powered by price-value stock services and replenishment, allowing the U.S. retail merchant an opportunity to go after the largest market in history — The Millennial. For retailer and customer, it is the perfect combination.
"BALDESSARINI provides the retailer a competitive 'grab and groom' for the future new consumer," says McCoy. "Whether jeans or formal wear, and everything in between, this brand gives the multi-brand merchant the vehicle to reach out to the future and bring in a whole new generation with products that are priced for, and geared to, their lifestyle."
###
About BALDESSARINI
BALDESSARINI is an international premium luxury fashion brand headquartered in Munich whose core focus is the ultimate in craftsmanship and quality materials. The complete collection ranges from classic tailoring to casualwear and includes shoes, bags and accessories, partly manufactured under license. Founded in 1993 by Werner Baldessarini, the label is now part of the brand portfolio of Ahlers AG, one of Europe's largest menswear companies.