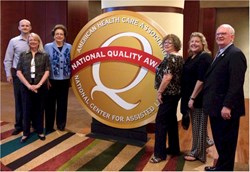 The keys to Golden LivingCenter Tarboro's winning the AHCA/NCAL National Quality Award were the '4Ps': passion, persistence, patience, and purpose
Richardson, Texas (PRWEB) October 31, 2013
BaldrigeCoach, the nation's leading provider of Quality Award Application support, announces that its client, the Golden LivingCenter Tarboro (North Carolina), has won the coveted Gold Award from the American Health Care Association (AHCA) and the National Center for Assisted Living (NCAL).
The Gold Award is part of the AHCA/NCAL National Quality Award Program which is the largest Baldrige-based program in the country. Its three-tiered approach encourages facilities in the long-term care and assisted living industry to begin a journey toward performance excellence.
Centers which achieve the Gold Award must meet standards of excellence concerning the following: patient-centered care, an engaged workforce, a culture of continuous improvement, excellent clinical outcomes, customer satisfaction and loyalty, low employee turnover, and strong financial performance. This year only five (5) facilities in the country earned the Gold Award.
"The keys to Golden LivingCenter Tarboro's winning the AHCA/NCAL National Quality Award were the '4Ps': passion, persistence, patience, and purpose," says Ms. Kay Kendall, Principal for BaldrigeCoach. "The Golden LivingCenter has a passion for providing excellent clinical care and service for their residents. They were persistent in applying for the Award and using the feedback to drive improvements in processes and results. They were patient in growing their culture of excellence. Finally, they were purposeful in engaging their employees in every step of the journey so that the achievement of the Gold Award belonged to everyone."
This is the third straight year that BaldrigeCoach has worked with a Gold Award recipient. It has also supported fifteen (15) other organizations in preparing successful Silver applications and ten (10) in achieving the Bronze award in 2013.
The stated mission of BaldrigeCoach, based in Richardson, Texas, is to help organizations become more productive, profitable, and enjoyable places to work by harnessing the power of Performance Excellence. Register for the BaldrigeCoach newsletter to access white papers detailing performance excellence topics.
About BaldrigeCoach
BaldrigeCoach delivers solutions that improve organizations' performance based on their needs using a proven change management model to lead cultural transformation in organizations. Its expertise includes:

Deep knowledge of the Baldrige Criteria
Extensive experience implementing the Balanced Scorecard
Facilitating Strategic Planning and Cultural Transformation
Using Lean Six Sigma and Hoshin Kanri to achieve breakthrough results.
BaldrigeCoach serves a number of sectors: health care, manufacturing, service, not-for-profit, small businesses, government and education.