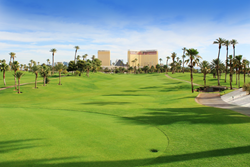 It was an honor to welcome a tournament with a group of supporters that ensure these courageous officers and their families receive the assistance they rightfully deserve
Las Vegas, NV (PRWEB) December 08, 2014
Las Vegas' top-rated gem on the Strip, Bali Hai Golf Club, served as host for the ninth annual golf tournament to benefit the Injured Police Officers Fund. The event featured plenty of excitement – including a hole in one by John Moran, Jr., whose father served as Clark County Sheriff for over a decade. The IPOF, founded by the late Moran, Sr. during his three term tenure as sheriff, supports the families of officers injured or killed in the line of duty.
A Walters Golf-owned property, Bali Hai Golf Club frequently plays host for the outings of admired organizations – and is known for attracting high-profile players, too. "The Moran family has been a fixture in the Las Vegas area for decades," said Mike Wachtman, General Manager of Bali Hai Golf Club. "It was an honor to welcome a tournament with a group of supporters that ensure these courageous officers and their families receive the assistance they rightfully deserve – and John Moran, Jr.'s hole in one made the event inspired by his late parents' charitable work even more special."
John Moran Jr., an esteemed attorney who has been involved in various high-profile cases in the Las Vegas area, used an 8-iron to sink a hole in one on the 145 yard 11th hole. The December, 5 2014 ace was carded in the company of Nevada Senator Randolph Townsend, Bill Weinberger – the son of late casino gaming mogul and former president of Caesars Palace, William "Billy" Weinberger – and "Las Vegas Sun" Publisher and President Brian Greenspun. The hole in one is the second in Moran's golfing career.
About Walters Golf
Walters Golf, a division of The Walters Group, has become one of the fastest-growing and most widely respected golf companies in the country. From its first venture into the private country club market in 1995 to today's ownership and operation of top-quality, daily fee golf courses, Walters Golf continues their commitment to quality and profitability while offering customers excellent value.
Led by businessman and avid golfer Bill Walters, Walters Golf is known in the national golf industry for developing first-class golf facilities. According to Executive Golfer, Walters is "Nevada's leading golf entrepreneur" who "recognized the need for visitor and corporate friendly golf facilities and packages, and seized on the opportunity, investing millions in three magnificent properties."
In Las Vegas, the company owns and operates Royal Links Golf Club and Bali Hai Golf Club in addition to Las Vegas Golf Getaways, Las Vegas Preferred Tee Times and Cili Restaurant. For additional information, visit http://www.waltersgolf.com, follow on Twitter and Instagram @WaltersGolf and interact on Facebook at facebook.com/WaltersGolf