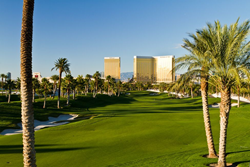 Because we started early, we'll also be opening early. Golfers should expect lush carpet like fairways coming out of maintenance.
Las Vegas, NV (PRWEB) September 07, 2014
Each year courses around the Las Vegas Valley close for two to six weeks while they undergo course maintenance. This year, Bali Hai Golf Club began an accelerated maintenance process in late August and plans to re-open on Saturday September 13th.
Most Las Vegas Valley courses have scheduled their maintenance for late September which means Bali Hai Golf Club will be one of the few fully operational courses with fully recovered course conditions, including roughs, going into the peak Fall Las Vegas golf season.
The course maintenance also known as "overseed", is when courses transition from Bermuda grass to winter rye grass which can stay green during cooler winter months. Course maintenance teams also use the lack of visitors to complete maintenance projects that could interfere with play.
"Because we started early, we'll also be opening early. Golfers should expect lush carpet like fairways coming out of maintenance. As we transition into fall and winter golfers will continue to experience the exceptional conditions that make Walters Golf courses stand out," commented Bali Hail Golf Club Golf Superintendent Eric Ostlund.
Bali Hai Golf Club is the only course located directly on the Las Vegas Strip. Its close proximity to major Las Vegas resorts, outstanding customer service and popularity among Las Vegas visitors recently helped it earn the "Best Golf Course" award for the 6th consecutive year by the Southern Nevada Hotel Concierge Association.
The course can play up to 7,001 yards and is a par 71. It is highlighted by 1000's of mature palm trees, water features, and crushed white sand accents and hazards meant to emulate the South Pacific. It is open to the public year round and offers caddy services, club rentals and a full service gourmet restaurant.
The course owner, Walters Golf, also operates Royal Links Golf Club in Las Vegas. Royal Links is to remain open until September 28th, at which time it will undergo maintenance for five days and re-open on October, 4th.
About Walters Golf
Walters Golf, a division of The Walters Group, is one of the most widely respected golf companies in the country. From its first venture into the private country club market in 1995 to today's ownership and operation of top-quality, daily fee golf courses, Walters Golf continues their commitment to quality and profitability while offering customers excellent value.
Led by businessman and avid golfer William "Billy" Walters, Walters Golf is known in the national golf industry for developing first-class golf facilities. According to Executive Golfer, Walters is "Nevada's leading golf entrepreneur" who "recognized the need for visitor and corporate friendly golf facilities and packages, and seized on the opportunity, investing millions in two magnificent properties."
Walters Golf owns and operates two premium daily fee championship golf courses in Las Vegas, NV; Bali Hai Golf Club on the Las Vegas Strip, and Royal Links Golf Club, a course that offers a collection of signature holes from British Open rotation courses including Royal Liverpool, St. Andrews and Royal Troon. Both daily fee courses are open year round and are equipped accommodate large groups and events.