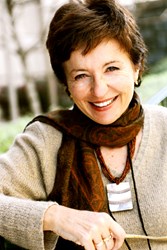 We made this an intimate setting with a small group of women, so you can travel deep within as well as experience the enchantment of the all-encompassing art and beauty-filled island of Bali.
(PRWEB) February 12, 2014
Transformational coach Lauretta Zucchetti, who specializes in guiding women going through challenging transitions, along with Kristie Perkins, today announces Transcend~Transform~Thrive: A Retreat for Women. Intended to be a respite from demanding lives, the retreat will lead women to rediscover their passion for life and reignite their connection to the natural world. The seven-day journey will be held June 14-21 at Beji Resort (http://www.bejiubudresort.com/) in Ubud, Bali.
"We made this an intimate setting with a small group of women, so you can travel deep within as well as experience the enchantment of the all-encompassing art and beauty-filled island of Bali," said Lauretta. "At this retreat you will rediscover your true wishes and direction."
Reservations are being taken now for the retreat. There are a limited number of openings available and deposits are due March 31, 2014. For additional detail see http://www.laurettazucchetti.com/#!retreats/cfvg.
"This retreat is ideal for anyone burned out from unfulfilling jobs or relationships. It's also renewing for women who live a stressful lifestyle and need to slow down and rediscover whom they are." According to Lauretta Zucchetti, women often neglect and/or entirely sacrifice their dreams and passions for their children, spouse, or even their boss. Continual sacrificing of their needs can leave women feeling removed from their true passion in life.
"We invite women who feel they've lost their life's purpose or direction to join us," said Zucchetti, noting that it's an ideal fit for empty nesters, widows or women who have experienced divorce. "We will help you open up to finding your true voice. You will rejuvenate your soul, develop renewed inspiration, and follow your heart in reinventing your life."
Women who attend will:

Learn to listen & to trust their own intuition.
Reconnect with and become inspired by nature.
Nurture and uncover their passions through unique activities.
Enrich their soul by experiencing typical Balinese life.
Improve their health by eating organically grown, raw foods.*
Eliminate stressful patterns through daily writing exercises, yoga and meditation practices.
Bali is the ideal location for reinventing oneself. Situated in central Bali, Ubud's spectacular natural beauty invites deep reflection and renewal. With its exotic flora, verdant landscapes, and breathtaking sunsets, the location of the retreat alone will provide visitors with the beauty, quiet, and comfort they need to awaken their minds, bodies, and spirits. From art classes and massage to prayer, cooking and hiking through the rice fields, the retreat will offer visitors a variety of opportunities that will encourage change and promote revitalization.
About Lauretta Zucchetti, MA
Lauretta Zucchetti is a writer, motivational speaker, career and life coach who specializes in coaching women through challenging midlife transitions. She was raised in Florence, Milan, and Pavia, Italy. She holds a Bachelor's of Arts in Women's Studies at the Vermont Academic Center and a Masters in Transpersonal Psychology from Sofia University.
Lauretta's writing has been featured on Thank the Now, SoulFriends, and A Band of Women, and is forthcoming in Literary Mama and Crone: Women Coming of Age. Her award-winning essay, "Mothering Mothers, and Finding Comfort in the Branches of an Empty Nest," will be published in A Band of Women's upcoming anthology, Nothing But the Truth So Help Me God: 71 Women on Life's Transitions.
In addition to coaching, she is co-founder of Africa Hope Alliance and board member of The Samburu Project. She lives in Northern California with her husband, and just finished her memoir, Painted Red, about her childhood in Italy.
More at http://www.laurettazucchetti.com.
About Kristie Perkins
Kristie is a writer, photographer, singer and artist, who was born and raised in Las Vegas, Nevada, but is currently based in Bali. Kristie 'discovered' Bali as a teen where she instantly fell in love with the beauty and spiritual energy of the island. Bali was where she returned later in her life. It's the place she felt most at peace, where she could take the time to heal from life, both emotionally and physically, and rediscover who she really is.
After returning to Bali she lost herself on the island, spending her time with the locals in small villages and creating her own pilgrimages. She attended events such as cremations, weddings, and sacred bathing rituals. She looked for healing in holy springs, walking the magic rice fields, and through the blessings of several highly respected priests. She sought healers of all kinds and attended temple ceremonies and beautiful festivals. Today she hopes to share her healing journey with other women who also feel the need to become whole again and regain their once vibrant spirit.