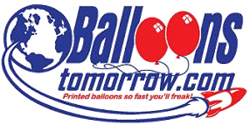 "To insure the best customer experience and secure online shopping it is important to utilize the latest technologies"
Iowa City, Iowa (PRWEB) July 15, 2016
BalloonsTomorrow.com, a leading online retailer of custom printed party and advertising balloons, personalized napkins, custom candy and other popular customizable items for parties and special events announces the upgrade of their online shopping cart system, the addition of a new assortment of custom printed products, and a new customer rewards program.
"To insure the best customer experience and secure online shopping it is important to utilize the latest technologies," says Thomas Wright, BalloonsTomorrow.com webmaster. "The new shopping cart uses the most current technologies to provide safe shopping, a sleek and easy checkout process, and make it simple and secure for customers planning a party, anniversary, special event or promotion to liven up their event and order balloons, napkins, candy and other products customized with their own unique message or image."
In addition to the newly upgraded shopping cart BalloonsTomorrow.com has instituted a customer rewards program that automatically banks reward points for each online purchase. Customers can purchase, for example, balloons for a birthday party that are customized with a photo of the birthday person and a unique message (a popular example is to print on the balloon the baby photo of the person having the birthday with a message underneath such as "Look who's turning 50") and when they complete their purchase the customer will receive points redeemable for their next purchase. BalloonsTomorrow.com customers can then bank the points across multiple purchases and grow the discount they can receive or use them anytime for a subsequent purchase. This will help customers that return to purchase custom balloons or other printed products to save money for repeat business.
BalloonsTomorrow.com has also added a number of other fun products to customize for parties or special events such as silicone wristbands that can be etched with your name, message, saying or slogan, large tote bags (including an organic cotton tote bag), custom stickers (great for political advertising), drinkware such as stadium cups, can coolers, and personalized coasters, and even custom sunglasses, pin-on buttons and badges and t-shirts. All of these products can be custom printed with an advertising message, logo, photo or any unique message of the customers choice.
To see the new store and products, visit BalloonsTomorrow.com, and of course anyone that is planning a special event such as a grand opening, trade show, anniversary, birthday party, family reunion or wedding reception and would like to easily personalize and liven up their event should check out the wide variety of party and event products that can be custom printed and personalized at BalloonsTomorrow.com.