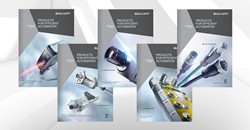 FLORENCE Ky. (PRWEB) April 12, 2019
A new set of global product catalogs released by Balluff provides easy access to the company's wide range of products designed to measure, detect, identify and connect.
The 5-volume set includes the newest and best-selling Balluff products organized by product type to make it easy to search. The set includes:
Volume 1: Sensors 1 - Inductive sensors, capacitive sensors, photoelectric sensors, magnetic field sensors, mechanical cam switches
Volume 2: Sensors 2 - Ultrasonic sensors, magnetically coded sensors, magnetostrictive sensors, inclination sensors, pressure sensors, temperature sensors, microwave sensors, flow sensors
Volume 3: RFID, machine vision and optical identification, human machine interfaces, systems
Volume 4:Safety, industrial networking, power supplies
Volume 5: Connectivity, accessories
The catalogs are listed individually but for those who prefer to have the entire set, a slipcase is also available. Product listings in the print versions include product images and important specs, while the online listings provide additional functionality including a snip and send tool, zoom and links to additional information on the website including CAD models, certification information, cut sheets, manuals and more.
"While many companies have strayed from print catalogs in 2019, Balluff made a conscious choice to create both print and digital versions of its new catalogs to best meet the demands of those in a manufacturing environment," said Marketing Communications Manager Juli Hale. "The digital versions offer the benefit of being searchable with quick links to product pages on the website. However, we realize that the warehouse floor, where it can be highly beneficial to review product drawings or specs, often has limited or no internet access and print versions are more useful here."
The catalogs are available to order at http://sensors.balluff.com/literaturerequest.
About Balluff:
Balluff stands for innovative technology, quality and cross-industry experience in industrial automation. As a leading sensor and automation specialist, Balluff offers a comprehensive portfolio of innovative sensor, identification and network solutions as well as software for integrated system solutions. We give our all to improve the competitive position of our customers by sharing our passion for automation.
Founded in Neuhausen auf den Fildern in 1921, Balluff now employees 3600 workers in distribution, production and development sites around the globe. This guarantees excellent worldwide product availability for our customers, as well as high-quality consulting and service directly on site.