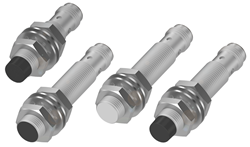 FLORENCE, Ky. (PRWEB) July 26, 2019
Typical inductive sensors have a reduced range for non-ferrous metal, requiring a correcting factor to calculate their switching distance. Not so with Factor 1 sensors; they detect both types of metal with no correction factor needed.
These inductive factor 1 sensors keep operating in harsh environments. They are magnetic-field resistant, so their function is not disturbed by strong electromagnetic fields, which are often found in welding applications. A PTFE coating on the housing helps keep weld spatter from sticking to the sensor.
Balluff has engineered this new generation of sensors with an IP68 rating and extended the working ambient temperature range to –40 to +85 °C. Add their improved housing and they are a clear improvement over the previous IP67-rated generation of devices.
Key features include:

Inductive Factor 1 sensors accurately detect all metals (ferrous and non-ferrous) at the same rated switching distance
Magnetic-field resistant and PTFE-coated housing performs in harsh environments, is resistant to weld spatter
IP68 rated, with extended ambient temperature range from –40 to +85 °C, both improved from previous generation
Ceramic coated sensing face material (for BES05KU version) provides further weld spatter resistance
Well suited for metalworking applications, including mobility tier 1, OEM, and stamping
Learn more at: http://www.balluff.com
About Balluff Inc.
Balluff Inc. is the U.S. subsidiary of Balluff GmbH, Neuhausen, Germany. Balluff is a leading supplier of networked IO-Link control system architectures that unlock the potential of the IIoT and Industry 4.0. Balluff offers a wide range of intelligent IO-Link and industrial Ethernet sensors in a variety of technologies including inductive, photoelectric, capacitive, and magnetic as well as magnetostrictive linear position sensors, magnetic tape linear encoders, industrial RFID systems, and industrial vision systems. Balluff provides cost-saving, process-enhancing solutions to machine builders and manufacturers to control, regulate, automate, assemble, position, and monitor manufacturing, assembly, and packaging sequences. Industries served include: automotive, packaging, food processing, beverages, tire, primary metals, conventional and alternative energy, semiconductor, plastics, and fluid power.