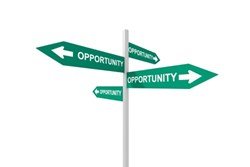 It's my speculation that when faced with the imminent reality that interest rates will go higher, buyers on the fence will jump into the market, and meanwhile, sellers will profit greatly.
New Colony MD (PRWEB) January 21, 2014
After the phenomenal gains in home values realized throughout the Baltimore-Washington Corridor in 2013, potential home buyers and sellers are both giddy and anxious to see what this New Year will bring. The general notion from top economists and real estate speculators—including reports from the National Association of Realtors®—is that home value gains for the area will occur in 2014, but at a more modest rate than in the year prior. The McKenna Group of WEICHERT, REALTORS® — New Colony in Columbia, Md., offers a review of various 2013 values and inventory levels for local markets, which can provide an understanding of the seasonal trends we can expect in the Baltimore-Washington area in the year ahead.
Columbia, Ellicott City and Frederick followed the expected trend of a rise in prices for the first seven-odd months of the year, followed by a late-summer drop-off and a gradual plateau in the fall. Real estate analytics company Altos Research saw the 90-day median list price for Columbia homes starting 2013 around $410,000, peaking at around $460,000 for much of June and July and ending the year at just above $420,000. Ellicott City, meanwhile, began January of 2013 at just above $635,000, went up closer to $645,000 for July and August and ended the year around $630,000. And Frederick finished the year strongly at above $360,000 after starting around $335,000 and peaking at closer to $385,000 between July and August.
Mount Airy and Westminster saw atypical highs and lows, so it's perhaps best to look at each of these markets individually, and also where they fell during the middle of the year when much of the national market was peaking.
The most dominant trends seen for all five areas outlined were that sales prices peaked toward the midway point of the year and inventory was extremely low both around May and at the end of the year.
This year may be different. The Federal Reserve's decision to phase out its purchasing of mortgage-back securities throughout 2014 may push buyers into the market sooner, before interest rates rise as a result of the reduced purchasing.
"I think that will create a big hike in the number of buyers this spring," explains Denise Davis of the McKenna Group of WEICHERT, REALTORS® — New Colony in Columbia, Md. "It's my speculation that when faced with the imminent reality that interest rates will go higher, buyers on the fence will jump into the market, and meanwhile, sellers will profit greatly."