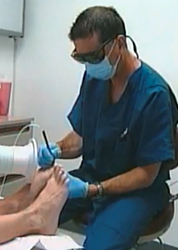 Baltimore, Maryland (PRWEB) August 04, 2013
Doctors of podiatry, Mark Spier and Justin Lewis have recently announced their new partnership in serving the South Baltimore area. This partnership is a collaboration designed to better meet the needs of the residents in the Locust Point and Federal Hill communities, as well as the residents in surrounding communities. For details about their Podiatry Practice, click Spierfoot.com.
This partnership will take place in the Locust Point Foot and Ankle Center located in the downtown area, near Ft. McHenry, situated near the Camden Yards stadium complex. The location was chosen for its access to Interstate 95 and for its ability to serve the local residents and commuters on their lunch breaks.
This location also makes it possible for those that work in the downtown Baltimore area to get treatments in a timely and convenient manner.
Among the traditional treatments, Dr. Spier and Dr. Lewis will offer the PinPointe FootLaser as part of their treatment plans.
Dr. Spier was the first podiatrist to be certified in the Baltimore area for use of the laser. It was developed specifically for the eradication of nail fungus found under toenails and fingernails. The treatment takes approximately 30 minutes. It is favored over the traditional oral or topical treatments.
Patients see results in as little as one to three visits with minimal discomfort. This podiatry office will also provide treatment for diabetic foot care, surgery for the ankle and foot, including reconstructive surgery, and sports medicine.
Dr. Mark E. Spier has been in practice since 1985. He is certified by the American Board of Podiatric Surgery and has become well-known for his innovative treatments, including the PinPointe FootLaser.
Dr. Spier has been in practice in the Baltimore area for more than 25 years, specializing in the treatment and prevention of foot problems ranging from corns and toe nail fungus to fractures and reconstructive surgery. Dr. Spier also has offices in Columbia and Reisterstown.
Dr. Justin Lewis has undergone extensive training in the areas of treating trauma, diabetic limb salvage, sports medicine and flatfoot reconstruction. He is currently certified by the American Board of Wound Management and has a fellowship with the American College of Certified Wound Specialists.
His credentials also include his association in the American Academy of Podiatric Sports Medicine and the College of Foot and Ankle Surgeons. Dr. Lewis also has offices in Eldersburg and Westminister.
The Locust Point Foot & Ankle Center is located at 1626 E. Fort Avenue in Baltimore, Maryland. Call (410) 332-1414 for more information.