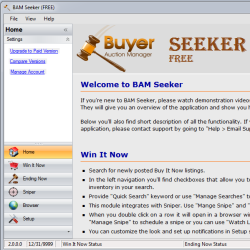 BAM Seeker - Software for serious eBay buyers
Clifton, NJ (PRWEB) January 28, 2014
Buyer Auction Manager has just released its latest software called BAM Seeker with free eBay sniper. The software targets eBay buyers who are serious about winning auctions, be it for personal use or to resell the items and make money.
It includes three powerful modules that help buyers find great deals and save money. Those include:

Sniper Module - this free eBay sniper allows users to place their bids in the final seconds of the auction. Sniper avoids bidding wars because other people who are interested in the same item do not have enough time to increase their bid.
Win It Now Module - scans for newly listed Buy It Now auctions to find great deals. Sometimes sellers list items on eBay with low BIN prices. Those listings are usually gone within two minutes of being posted. Win It Now finds those listings before other people have a chance to see them.
Ending Now Module - searches for auctions that are about to end to find bargains overlooked by others. There are auctions that do not get much attention and end with low final bids. Ending Now finds those auction before they end.
BAM Seeker with its free eBay sniper, Buy It Now auction scanner and the ability to search for auctions that are about to end, gives eBay buyer tools necessary to find great deals and dominate the competition.
Learn more by visiting Buyer Auction Manager website at http://buyerauctionmanager.com.