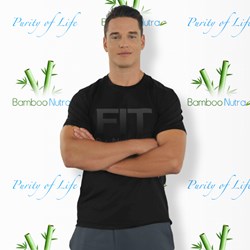 Denver, CO (PRWEB) August 30, 2013
Health supplement and lifestyle conglomerate Bamboo Nutra LLC signs Robert Perovich, one of the world's highest paid and once most sought after male model, to both endorse the company and host their intensive 14-day 'FIT By Nature' fitness program. After recently signing on UFC Superstar Cheick Kongo, the addition of Perovich boosts the Company's star power and exposes the Bamboo Nutra brand to a larger audience, taking into account the vast and diverse consumer following Perovich brings with him.
Before becoming a Level 1 Crossfit instructor and opening his own gym, Perovich walked the runway for posh labels such as Dolce & Gabbana, Versace and Giorgio Armani, carried out advertising campaigns for Calvin Klein, Gucci and Samsonite, symbolized Hugo Boss and Jean Paul Gaultier fragrance, and has been featured in several editorials for upscale magazines such as GQ. With a tremendously successful 14-year modeling career and significant fitness/coaching knowledge and experience, Bamboo Nutra views Perovich as the ideal candidate to host their 'FIT By Nature' program.
The opportunity and decision to sign Perovich originates from a Bamboo Nutra key objective of utilizing famous personas to increase the brand recognition and market penetration of their By-Nature product line. The key additions of Kongo and Perovich at such an early stage of Company and product development continues to edge the Company closer to becoming a household name. The Company views the utilization of their endorsers as fundamental in facilitating their international growth and expansion.
The consumer trend towards emulating celebrities and athletes translates into a significant opportunity for Bamboo Nutra to give back to the community. Perovich, and all public figures endorsing Bamboo Nutra, will be making regular appearances within local communities, schools and events to promote both nutrition and exercise as part of a healthy and balanced lifestyle through the Company's organization 'Project Kids'.
Regarding the recent union, Perovich was quoted saying, "My modeling career has obviously made me very comfortable in front of the camera, which together with my life-long passion for fitness, I think really makes me the perfect fit for this program, and I'm excited to get started...I think Bamboo Nutra has a solid foundation, great product scope, and I love what they're doing with their organizations (Project Kids and Project Panda). It's important to me to give back to the community that had such a big influence helping to get me to where I am today. Kids are another of my passions, and teaching our next generations about health and fitness should be the primary objective in combating the global obesity and disease epidemics we're faced with today."
About Bamboo Nutra LLC
Bamboo Nutra is a global Health Supplement and Lifestyle Company, focused on promoting the positive benefits associated with natural bamboo silica and healthy lifestyle options. The company is established around the philosophy that "nature is life", and was built on the principle that ingredients created from nature are the foundation of improved mental and physical wellbeing.