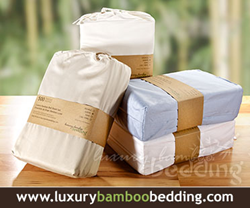 Mr. Shron commented, 'You will relegate your best cottons to your linen closet. Bamboo sheets are breathable and just luxuriously comfortable.'
Washington, DC (PRWEB) August 26, 2014
Luxury Bamboo Bedding has released their customer reviews from a recent study that concluded that Bamboo sheets are the top choice for luxury and comfort in the bedding world. Van Shron, President of Luxury Bamboo Bedding, states, "We love our bamboo bedding, and it is gratifying to see that our customers do too." He goes on to say, after the findings of the study, that, "This is the best bedding for a restful sleep."
In 2006, the company received certification from Exova/Bodycote that their 100% bamboo fiber was in fact derived from bamboo plant tissue. In 2013, their luxury bamboo sheets received a 5 out of 5-star rating in resistance to pilling, as assessed by Intertek, the industry leader in consumer goods testing.
The study was distributed to the company's current customers who had purchased 320 thread-count minimum Bamboo sheets for their sleeping needs. Mary K. W. from Port Huron, Michigan, a study participant, commented: "I have purchased 3 sets of Bamboo sheets over the past few years. I started with the classic sheet set and just loved them! They are so soft next to my skin. I love how they keep me warm in the winter and cool in the summer. For my next purchase I decided to try the Ultra sheets and loved them even more. It is like sleeping in a bed of silk. I would highly recommend these products, and find it hard to sleep in any bed without them now! My overall rating is definitely a 5!"
The study was conducted across North America with participant ages ranging from 25 to 70. The following two reviews cover the most salient consumer opinions:
Leah O., Charlotte, North Carolina, USA - 320 Thread Count Bamboo Sheets.
I looked into several different websites and companies when looking to purchase my first set of bamboo sheets but decided on Luxury Bamboo Bedding and I couldn't have been more pleased. The colors turned out to be exactly what I wanted and are beyond comfortable. Once you sleep on bamboo sheets, you will never settle for anything else. I have since purchased several sets on multiple occasions for myself and as gifts. Rating: 5
Malia H., Palm City, Florida, USA - 320 Thread Count Bamboo Sheets
We purchased our first set of Bamboo sheets in St. Lucia and liked them. I went on-line to purchase a second pair and found your site and placed my order. Much to my surprise I loved your bamboo sheets so much more than our other set. Your sheets are higher quality and more lush. They also have deeper pockets for our mattress and the pillow cases are a better fit. I will order all my sheets from you in the future! Thank you so much. Rating: 5
Luxury Bamboo Bedding has developed the product so that it will not shrink and will resist pilling. The sheets come in several colors and are competitively priced. Sizing for the sheets start at Twin, and range to California King. Luxury Bamboo Bedding also offers custom tailoring to accommodate most customer needs, including custom shams and bed skirts. These Luxury Bamboo sheets can be found at Luxury Bamboo Bedding online store.
Along with the durability of the sheets, the bamboo creates thermal regulating that keeps users cool in hot weather and warm on a cool night. Bamboo fabric is very breathable which means that it enhances moisture evaporation, helping one keep comfortable in warm weather, and dry and warm under an insulating comforter in cool weather. Luxury Bamboo Bedding's Oeko-Tex Standard 100 certification ensures that the sheets are 100% free of harmful chemicals and, as a result, non-allergenic.
[About Luxury Bamboo Bedding]
In 2002, while traveling the backwoods of South East Asia, Van Shron and his partner discovered a bamboo viscose fabric manufacturer. Realizing the benefits of bamboo as a source of fibre for sheets, they began their journey introducing the wonders of this unique bedding. Since its introduction in 2004 this complete collection of bamboo bed linens has evolved into its current luxurious form that resists pilling and does not shrink. The company's efforts to engineer the bamboo bedding for their customers' personal comfort and long term use have been very successful. For further details, please call Van Shron at 1 866 970 4800. For more information, please visit the Luxury Bamboo Bedding website at http://www.luxurybamboobedding.com.