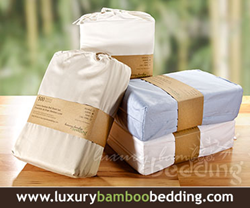 The fact that our bamboo fabric achieved 5 out of a possible 5 when tested for resistance to pilling was a great vindication of our development efforts that began in 2004.
(PRWEB) June 24, 2014
The term "luxury" in Luxury Bamboo Bedding is truly earned and proven by its recent 5 out of 5 quality rating from Intertek. Intertek tested and rated the company's 100% bamboo sheets (both 350 and 500 thread count) and gave them a 5 out of 5 rating for "excellent resistance to pilling and minimal shrinkage." While many bamboo sheet manufacturers settle for the acceptable 3 out of 5 rating (given for "moderate pilling"), Luxury Bamboo Bedding strives to ensure that their products achieve high ratings and represent the best of the best.
This high rating truly exemplifies the company's dedication to producing the most luxurious and highest quality bamboo sheets on the market. "The fact that our bamboo fabric achieved 5 out of a possible 5 when tested for resistance to pilling was a great vindication of our development efforts that began in 2004," says Mr. Van Shron, President of Luxury Bamboo Bedding. "We have worked hard over the years to ensure that our manufacturers use the best possible yarns that resist pilling. This ultimately creates a stronger fabric that lasts longer than the average bamboo sheets."
In addition to lasting longer, Luxury Bamboo Bedding takes pride in producing the highest quality sheets that are silky soft and naturally breathable. The sheets are finely crafted in an ultra-sateen finish for excellent smoothness, luster and softness – making the material very similar to fine silk. Other benefits of Luxury Bamboo Bedding include:

Thermal regulating: bamboo fabric is very breathable and keeps sleepers cool in hot weather and warm and dry under an insulting layer in cool weather
Non Allergenic: Luxury Bamboo Bedding products are naturally hypoallergenic and certified free of harmful and allergenic chemicals – making them excellent for everyone, including those with skin sensitivities.
Easy Care: These bamboo sheets require no special care – they can be machine washed in warm water and placed in the dryer on the gentle cycle. After removing from the dryer, fold immediately (no ironing).
Sustainable and Eco-Friendly – Bamboo is sustainable and an excellent source of fiber – the environmental benefits are quite significant when compared to cotton (read more about what makes bamboo bedding more environmentally friendly here: http://luxurybamboobedding.com/Bamboo-Information-Centre.html).
Along with this latest high quality rating, it's also notable that in 2006 Luxury Bamboo Bedding was the first and only supplier of bamboo bedding and apparel to get certification from Exova, an internationally recognized test facility (formerly Bodycote), that proved their bamboo fiber was actually derived from bamboo plant tissue.
For more information about Luxury Bamboo Bedding, visit http://www.luxurybamboobedding.com.
About Luxury Bamboo Bedding:
The concept of Luxury Bamboo Bedding began in 2004 when Van Shron and his associate discovered bamboo fabric in a remote area of China. Mr. Shron's company Onedin Sportswear was the first and only company in North America to get certification from Bodycote (currently Exova), a respected international testing facility, proving that Onedin's bamboo fiber was in fact made from bamboo plant tissue. For more information please contact Van Shron at customerservice(at)luxurybamboobedding(dot)com or visit http://luxurybamboobedding.com.
# # #