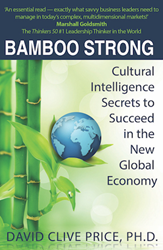 Time to adapt. Time to be strong.
London, UK (PRWEB UK) 28 June 2016
Time to adapt. Time to be strong. That is the message of author David Clive Price in his timely book Bamboo Strong. Not only do the business leaders of today face extraordinary complexity and increasing diversity in their markets and workforce's, but also the momentous decision of the UK to leave the European Union has significant implications for the development of global leadership skills.
'Whatever your view of the vote, the UK now has to look outwards - not only to European markets, but also to opportunities, partnerships and trade agreements with major emerging markets such as China, India, ASEAN, Commonwealth countries and Latin America, as well as with the European Union,' says Price.
'In other words, the UK will need to adapt - and be strong. It will need a more global vision and more flexible leadership, it will need to understand and relate to the markets and cultures of the world much more than it is has done when depending mainly on the EU,' continues Dr. Price.
'I wrote this book to help develop the cultural intelligence needed to communicate, network, negotiate and lead in culturally diverse workplaces at home or overseas. The book offers a proven 4-part system to develop your global leadership and cross-cultural skills with success strategies and inspiring examples from around the world.'
The book, which is available on Amazon and soon in bookstores, has already received widespread acclaim. To listen to or read a short Introduction to the book and Foreword by Marshall Goldsmith, Thinkers50 #1 Leadership Thinker in the World, click here
ADVANCE REVIEWS
"An essential read that is a wise and powerful compendium of strategies to help you truly prosper as a business owner or executive in the new global economy. Bamboo Strong is about the most important problems arising today in the global economy and it proposes strategies companies can implement now for a more fruitful tomorrow!" -- Marshall Goldsmith, Thinkers50 #1 Leadership Thinker in the World.
'This book cuts to the chase as to why business owners and executives fail in new markets and cultures. It provides deep insights into the global challenges businesses face and delivers practical and innovative solutions you can profit from immediately. It's destined to be the cross-cultural handbook of the decade.' -- Jason Jennings, worldwide bestselling author of Think BIG—Act Small
'A book for everyone and anyone you care about. An essential guide for the times we live in.'-- René Carayol, MBE, CEO, Inspired Leaders Network
ABOUT THE AUTHOR
David Clive Price Ph.D. is an international speaker, author and cross-cultural mentor to Fortune 1000s and government agencies. David spent five years as strategic advisor and chief speechwriter for Asia for the HSBC Group in the run-up to the handover of Hong Kong to China, and much of his work over the past two decades has been mentoring CEOs and business leaders in the area of cultural intelligence and global leadership. He has been at various times a Cambridge academic, a wine and olive farmer, a travel writer and an explorer. More information at: http://www.davidcliveprice.com/speaker