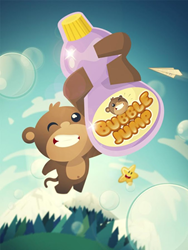 BubbleJump! provides a fluid gameplay design that uses tilt control on your device to guide the legacy character BAM the Monkey through a whimsical climbing backdrop of fresh, crisp graphics of scenery, obstacles and bonuses
Farmington Hills, MI (PRWEB) March 02, 2015
Set for an official launch date of the first day of spring, March 20, 2015, BAM the Monkey and the first of his new kid's game app series has been pre-launched by BMG Gaming and is available for free download today from the Google Play Store and the iTunes Apple App Store now. BubbleJump! is a new kids mobile game app that has proven fun for all ages in early ratings, reviews and demographic analytics. BubbleJump! starring BAM the Monkey, features an easy yet increasingly difficult vertical game play where the goal is to guide BAM in riding and jumping from bubble to bubble while avoiding creative obstacles and picking up soap bonuses.
Designed utilizing tilt control (leaning your mobile device from side to side) the new free kids game app, BubbleJump!, hopes to help improve eye-hand coordination in the younger audience. "BubbleJump! provides a fluid gameplay design that uses tilt control on your device to guide the legacy character BAM the Monkey through a whimsical climbing backdrop of fresh, crisp graphics of scenery, obstacles and bonuses," explained BMG Media CEO and Founder Blake George. "We are greatly looking forward to the traction of BAM the Monkey starring in this pre-launch release and those of our next games in the series."
High hopes for the super-cute BAM the Monkey starring in BubbleJump! and his mobile game apps to come.
About BAM the Monkey
BAM the Monkey is a personality, a game app character, a cartoon, a digital icon, a 3d hologram and any other digitally formattable design of a character you can envision as the epitome of cute, fun, and fresh - created for kids, adopted by parents. BAM is also the legacy character brainchild of BMGGaming, a recent sister start-up by web development and marketing innovators, BMGMediaCo.com. Connect with BAM the Monkey on Facebook, Twitter and Google +.
PR Contact
themonkeyBAM(at)gmail.com