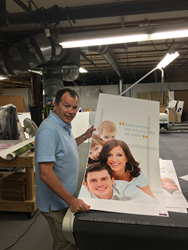 The printing job was taking three steps, whereas we were able to use the Vivid White material in only one step, which ultimately saved the dental group between 30 and 40 percent in time and labor--David Henderson, Wide Format Manager, B&B Printing
Scranton, PA; Wilsonville, OR (PRWEB) July 25, 2016
B&B Print Source of Portland, OR, has selected Vycom's Vivid White, part of the Celtec Expanded PVC line of printing materials, to achieve the vibrant colors and whiter whites that are so important to any advertising piece, but especially to the Willamette Dental Group in Portland. The dental group needed bright white smiles in ads that promote dental care and teeth whitening, which are absolutely critical in showing results. B&B Print Source serves the group's printing needs every quarter and when new branches open. The rapidly growing dental group, with 50 locations in Oregon, Washington State and Idaho, required superior print quality--which was as important as the volume and fast turnaround. The job includes 18 different lifestyle images showing kids and adults caring for their teeth.
"We needed to find solutions to match their needs as they expand," said David Henderson, Wide Format Manager, B&B Print Source. "A Portland supplier introduced us to a new Vycom Celtec line called Vivid White, which make whites really pop." Celtec Vivid White is an expanded PVC product line that provides a bright white option for wide-format and signage that makes cooler colors pop with vivid color, creating the perfect mood and message. Vycom is now a single source for two different white expanded PVC tones, providing creative options for discerning printers. 
For the dental group, Henderson said it answered many needs, including cost savings. He explained that Willamette Dental had some jobs printed elsewhere on a white vinyl and another pvc substrate that was not giving them graphic quality or bold colors that the posters needed. They needed before and after images of the whitening process, which had to be dramatic enough to show the power of the whitening process. Henderson said other pvc products were also too yellow, considering the dental group's need for a vibrant white.
"The job was taking three steps, whereas we were able to use the Vivid White in only one step, which ultimately saved them between 30 and 40 percent in time and labor." Henderson explained the three-step process required a textured laminate over the top of the piece, and having it cut and mounted with French cleats to a 6 mil substrate-then cut again.
"Vivid also does not require a lot of touch up or lamination and is easy to die-cut," he said. "It's the kind of white the dental group needs to show off their work and make the bright smiles pop." The B&B staff can now print, cut and be done with a better looking final product and time savings.
As Willamette Dental Group continues to expand throughout the Pacific Northwest, Henderson says B&B Printing and its branches will continue to use Vivid and keep the customer smiling with great results.
Vycom's Celtec Expanded PVC and Celtec Ultra White feature highly printable surfaces for sharp, bold display graphics. For more information, visit http://www.vycomplastics.com. To learn more about B&B Print Source, visit http://www.bbprintsource.com.
About Vycom
Vycom, a division of CPG International, is dedicated to maintaining an environment where quality meets performance. Vycom offers the largest range of products, capabilities and inventory for all your Olefin and PVC needs. http://www.vycomplastics.com.