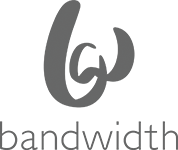 "There's some incredible innovation happening within the communications industry today. I'm looking forward to working together with CTIA to help to support that innovation."
RALEIGH, NORTH CAROLINA (PRWEB) November 16, 2016
Bandwidth, the business-grade CPaaS company powered by the nation's largest VoIP network, today announced that Chief Operating Officer Steve Leonard has been elected to the Board of Directors of CTIA, the premier trade association of the U.S. wireless communications industry.
Leonard's one-year term begins on January 1, 2017. He joins a Board responsible for setting strategic direction and guiding continued innovations in the communications industry, which includes incumbent board members from companies such as Verizon, Motorola, AT&T, T-Mobile, Microsoft and Sprint.
Leonard has more than 15 years of experience in the industry and is widely recognized as a pioneer in mobile messaging. Prior to Bandwidth, he was CEO of GoldPocket Wireless, one of the first companies to launch short codes. Under his leadership, Bandwidth has evolved to become a top Communications Platform as a Service (CPaaS) provider. He's been very active in working with CTIA, service providers, and carriers to help simplify and accelerate the growth of enterprise messaging.
"I've really enjoyed working with CTIA throughout the years, and I'm honored to be named to the Board," said Leonard. "There's some incredible innovation happening within the communications industry today. I'm looking forward to working together with CTIA to help to support that innovation."
"We are looking forward to adding Steve's expertise and experience to our work on behalf of the communications industry. As our industry continues to evolve and grow, it is important we add voices like Bandwidth to ensure the United States remains the world's leading wireless industry that provides users with the most innovative products and services," said Meredith Attwell Baker, President and CEO, CTIA, as part of its 2017 Board and executive officer announcement.
For more information, visit http://www.bandwidth.com.
About Bandwidth
Bandwidth is the business-grade CPaaS company powered by the nation's largest VoIP network. Bandwidth's solutions are shaping the future of how we connect—with embedded voice and text for mobile apps and large-scale enterprise level solutions, and a category disrupting WiFi-first mobile phone service. At the core of Bandwidth's offering are communications APIs that allow companies to launch and scale next generation apps and solutions using the nation's largest VoIP network. Bandwidth's APIs provide easy access to phone number provisioning, voice calling, messaging and emergency services, all built atop Bandwidth's own nationwide network.
About CTIA
CTIA® (http://www.ctia.org) represents the U.S. wireless communications industry and the companies throughout the mobile ecosystem that enable Americans to lead a 21st century connected life. The association's members include wireless carriers, device manufacturers, suppliers as well as apps and content companies. CTIA vigorously advocates at all levels of government for policies that foster continued wireless innovation and investment. The association also coordinates the industry's voluntary best practices, hosts educational events that promote the wireless industry and co-produces the industry's leading wireless tradeshow. CTIA was founded in 1984 and is based in Washington, D.C.
Twitter: @ctia | Blog: http://ctia.it/Na6erv | Facebook: http://ctia.it/LCm4Nn|
LinkedIn Group: http://ctia.it/Na6cA2| Google+: http://ctia.it/12PfCrO