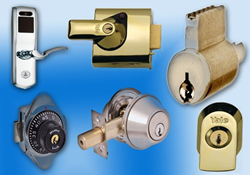 Our Locksmith has over thirty five years of specialized servicing for banks ...
Memphis, TN (PRWEB) February 28, 2014
Electronic Security Specialists now offers locksmith services to banks and other area businesses. These services include safe deposit work, safe and vault work and all general lock work. Safe deposit work include everything from drilling a delinquent box, to rekeying a box for a customer who has lost their key, to routine maintenance and servicing of safe deposit which includes cleaning box faces and lubricating hinges.
Vault and safe services include:

Changing of combinations
Drilling and opening safes and vaults that have malfunctioned
Cleaning and lubricating vault and safe doors
Rekeying cash drawers and under counter equipment
Cleaning and repairing vault time locks.
"Our Locksmith has over thirty five years of specialized servicing for banks, Jesse began his Locksmith career in the Chicago area more than thirty five years ago, and he came to Memphis in 1985 to work for a large bank equipment provider. Jesse came to work for Electronic Security Specialists in 1999 and has worked in our MedixSafe division until this year. We are proud of what Jesse has to offer our bank customers." Jim Turner, President – Electronic Security Specialists
Electronic Security Specialists also installs alarms, access controls and fire alarms, and performs video integration. Clients range from residential to commercial sites, including large medical campuses, office buildings, warehouses, lodging establishments, educational facilities, retail stores, and other types of facilities.
A partial list of its growing client base includes Allenberg Cotton; BancorpSouth Bank; Coca Cola Refreshment USA; CVS Pharmacy; First South Credit Union; First Security Bank Batesville, Miss.; Methodist Healthcare University; Methodist Hospital North, South, and Germantown; Memphis Convention and Visitors Bureau; and the University of Mississippi.
In 2009, Electronic Security Specialists opened its MedixSafe division, which provides secure systems using Biometric fingerprint scans and proximity cards for managing Schedule II drug inventories in ambulances, firehouses and hospitals. Today, MedixSafe offers a complete line of narcotics cabinets and is selling them nationwide to fire stations, ambulance companies, doctors, drug companies, and veterinarians.
For more information contact Wayne Leggit - wleggett(at)essccorp(dot)com.
AR # E2002 0072 TN #336
TN Locksmith License #00001003