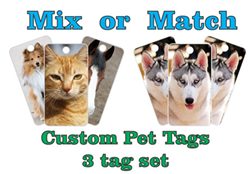 "A big thanks goes out to our customers who helped us win. Our win is a win for animal care groups."
Boulder, Colorado (PRWEB) September 05, 2014
BankcardUSA, a leading credit card merchant provider in business since 1993, ran their 2014 Merchant Award contest from May to Aug. 15th, 2014. The award is a voter-based contest whereby the merchant with the most votes win. JollyAwesomePetTags entered the contest with less than two weeks to go.
"We knew we were starting late in the game but still felt we could win," said Leyla Day, Communication Director for JollyAwesomePetTags. In the end, the competition was intense and, while JollyAwesomePetTags didn't win first place, their 3rd place finish was impressive given their late start. "Our customer friends really helped move us up in the ranks and we are deeply appreciative for their votes. Our placement in the top three allows us to follow-through with our pledge to donate our winnings to animal organizations that can benefit from some much needed cash," said Geoff Taylor, CEO of JollyAwesomePetTags.com.
JollyAwesomePetTags.com is the developer and marketer of Dura-Tag ™, a new type of customizable pet ID tag that has become the tag choice of pet lovers everywhere. This unique product is the creation of JollyAwesomePetTags.com, an independent pet tag specialty company dedicated to providing unique value through their original tag product and their online customization tool. Unlike traditional metal ID tags, Dura-Tag™ pet ID tags are made of a "noise-free" non-metallic tagging material that is strong, durable, long-lasting and guaranteed. Likewise, customers can mix or match the images on their tags.
The online marketplace for pet ID tags is mostly dominated by aluminum and stainless steel tags. These noisy metal tags are often name engraved on one side only and are available in limited styles, shapes and colors. Offering a full color customizable pet ID tag option isn't common in the pet ID tag industry due to complexity and a high tag price.
JollyAwesomePetTags.com makes it easy for pet owners to design and create full color pet tags online at an unheard of price point. These double-sided customizable pet ID tags are original works of art that truly reflects the pet's personality more than a metal tag ever can.
JollyAwesomePetTags.com stands behind all their Photo-pet tag™ products by offering five unique guarantees: damaged tag replacement, lost tag replacement, tag info update, product performance, and product satisfaction. Dura-Tag™ pet tags offer these great benefits:

Strong & Durable – Dura-Tag™ is tough and is designed to hold up
Quiet – Say good-bye to clinky, clanky, noisy metal tags
Inexpensive – "3 tags for 1 low price" is unmatched in the industry
Peace of mind – Outstanding product guarantees
Nuevo Originality – Custom photo pet tag will be the envy of others
Dura-Tag™ pet ID tag users have expressed their delight about this just launched product. And Dura-Tags™ aren't just for dogs and cats. Long time horse owner Sandy Sink of NC sums up her use of Dura-Tags ™ by saying, "I love Dura-Tag™ pet tags. I use them as tags for my horse gear. Also I have extra tags of each of my horses on my key-ring so I can show off my babies."
To find out more about JollyAwesomePetTags.com and their unique pet ID tags, please visit http://www.jollyawesomepettags.com/.
About the Company: JollyAwesomePet Tags is a small independent pet tag specialty company focused on providing unique value through their original Dura-Tag™ pet ID product. Through the company's easy-to-use online customization tool, creating a full-color, photo pet tag™ has never been easier. Dura-tag™ is a non-metallic tag option that is long-lasting, durable, and scratch-resistant and do not clink and clank like metal tags do.
Contact:
Leyla Day
Communications Director
Website: http://www.jollyawesomepettags.com/
Email: media(at)jollyawesomepettags(dot)com
About BankCardUSA Merchant Services
BankCardUSA is a leading provider in Credit Card Merchant service. In business since 1993, BankCardUSA offers a complete turn-key solution for both online and brick & mortor businesses who need credit card processing services. To learn more about BankCardUSA, please visit http://www.bankcardusa.com/