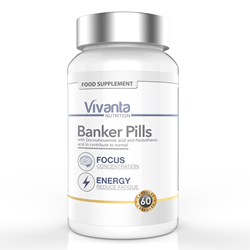 Our pills give bankers the best shot at making 2015 a record breaker
London, UK (PRWEB UK) 22 December 2014
The daily supplements are similar to 'study pills' used by students doing all-night revision or essay writing sessions. They increase concentration while enabling users to work for longer, thanks to improved energy levels. Backed up by research from the European Food Safety Authority, they are also beneficial for memory.
Banker pills support resistance to stress, which is sure to be invaluable whether making bets on the trading floor or making deals in the boardroom. There are also benefits for the banker's immune system and heart function, in order for them to live long enough to correct their mistakes.
With the financial crash of 2008 still being felt today, BuySupps hopes their product will help bankers get the economy booming again. BuySupps Managing Director, Rory Fuchs, said: "Our lives and economy are dependent on a healthy financial sector, and that means healthy bankers. Our pills give bankers the best shot at making 2015 a record breaker".
The daily pills are available to buy now for about £20 with a 110% money back guarantee, making them a true risk-free investment sure to be snapped up by eagle-eyed finance professionals. With a few more bankers walking around with these pills rattling in their pockets there might be a brighter future for the country's economy.
BuySupps are an online retailer of food supplements based in the UK, dedicated to top quality supplements and excellent customer service, and helping the financial sector help itself.