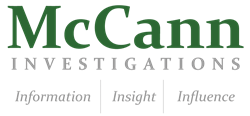 Bankruptcy fraud is a serious charge that, when a person if found guilty, could lead to prison time or major fines.
Dallas,TX (PRWEB) January 25, 2014
McCann Investigations, a company based in Texas that provides private investigations and digital security, announced the expansion of its fraud investigations services with its new bankruptcy fraud services.
Bankruptcy fraud is a white collar crime that often involves such issues as fraudulent bankruptcy claims, false statements, concealment and/or destruction of bankruptcy documents, concealment of assets and more. McCann's Dallas certified fraud examiners carefully investigate every detail of these cases to find evidence of fraud.
"Bankruptcy fraud is a serious charge that, when a person is found guilty, could lead to prison time or major fines," said Daniel Weiss, Managing Partner at McCann Investigations. "When such penalties are on the line, it's important that all aspects of the case undergo thorough investigation by trained professionals. Our examiners have a significant amount of training and experience in this area and are happy to help our Dallas clients in such cases."
Concealment of assets is perhaps the most common element of bankruptcy fraud cases. Whenever a person files for bankruptcy, he or she must disclose all assets, regardless of whether that asset has a net value, as it is for the creditors (not the debtors) to decide the value of all assets.
McCann's Dallas investigators understand the processes necessary to successfully uncover evidence in such cases, and are also available to be called upon as witnesses in court should a judge need expert testimony.
"We are pleased to bring this new range of services to our Dallas clients," said Weiss. "Our investigators have earned the trust of our many fraud investigation clients, and these services are certain to help even more people and organizations."
For more information about the services provided by McCann Investigations in the Dallas area, visit the company's website at http://www.mccanninvestigations.com and follow the company on Twitter at @mccangi.
About McCann Investigations
McCann Investigations is a Texas-based private investigations practice focused on comprehensive investigations incorporating digital forensics, surveillance, undercover work and background checks for clients in various case types. Service areas include intellectual property theft, non-compete enforcement, fraud, embezzlement and family law. McCann Investigators are experts in the latest computer forensics tools and are licensed with the state of Texas. McCann examiners have provided expert testimony and reporting in hundreds of cases across the state.