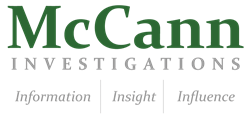 Bankruptcy fraud is a serious crime that comes with serious penalties if found guilty.
(PRWEB) January 27, 2014
McCann Investigations, a Texas-based firm that specializes in digital security and private investigations, announced that it has expanded its services at its San Antonio branch to include bankruptcy fraud investigations.
Bankruptcy fraud is a type of white collar crime that occurs when either individuals or organizations file for bankruptcy in a fraudulent manner. Types of bankruptcy fraud include concealment or destruction of bankruptcy documents, multiple filings, concealment of assets, false statements, fraudulent claims and more. The San Antonio certified fraud examiners at McCann have a great deal of experience in each of these types of cases, making them a valuable resource.
"Bankruptcy fraud is a serious crime that comes with some serious penalties if found guilty," said Daniel Weiss, Managing Partner at McCann Investigations. "Therefore, it's extremely important that the truth is uncovered. That's our top priority at all times: finding the truth of what happened in a given scenario, and discovering hard evidence of fraud wherever it exists."
Perhaps the most common type of bankruptcy fraud is concealment of assets, in which a person fails to disclose all of his or her assets while filling out bankruptcy papers in hopes of obtaining some added benefits. As only creditors are capable of determining asset value in bankruptcy proceedings, it is required that the debtor report all of his or her assets for the most accurate value assessment.
The San Antonio certified fraud examiners from McCann follow all of the stringent legal guidelines in place for fraud investigations, and occasionally will act as expert witnesses in court to explain the evidence gathered in their cases.
"These services will be a great asset for our clients in San Antonio," said Weiss. "We are pleased to add them and to be able to continue to set high standards for fraud investigations of all types."
For more information about the services provided by McCann Investigations in the San Antonio area, visit the company's website at http://www.mccanninvestigations.com and follow the company on Twitter at @mccangi.
About McCann Investigations
McCann Investigations is a Texas-based private investigations practice focused on comprehensive investigations incorporating digital forensics, surveillance, undercover work and background checks for clients in various case types. Service areas include intellectual property theft, non-compete enforcement, fraud, embezzlement and family law. McCann Investigators are experts in the latest computer forensics tools and are licensed with the state of Texas. McCann examiners have provided expert testimony and reporting in hundreds of cases across the state.