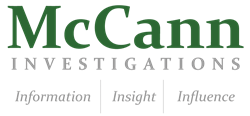 Austin, TX (PRWEB) May 28, 2014
McCann Investigations, a Texas-based firm that has earned a reputation throughout the state for quality in private investigations and digital security, announced that it uses detailed background research tactics at its Austin branch to aid in bankruptcy crime investigations.
The most common types of bankruptcy crimes that McCann sees are serial filings, invalid filings and the concealment of assets during a filing. As its first step in these investigations, McCann encourages its investigators to conduct some background research of the target to help guide the rest of the investigation.
"In a bankruptcy crime investigation, you need to have a certain level of knowledge about an asset's employment and assets owned," said Daniel Weiss, Managing Partner at McCann Investigations. "The background research performed by our analysts gives us that knowledge, which influences the direction we take in the rest of the investigation."
McCann's Austin investigations start off with a brief interview with the client to gather whatever information they know about the target of the investigation. They then review information about the target such as his or her criminal record, financial standing, assets owned, bankruptcy filings and more.
Part of the investigation is to research the target's digital footprint, as many perpetrators of bankruptcy crimes leave evidence behind in digital formats. McCann's Austin investigators have been trained in numerous forms of evidence extraction to get important pieces of information out of these devices so they can be used during the rest of the case.
"You could say that the initial research performed by our investigators is the most important part of the investigation," said Weiss. "Our investigators are true professionals who know how to set themselves up for success with detailed, thorough background analysis."
For more information about the services provided by McCann Investigations in the Austin area, visit the company's website at http://www.mccanninvestigations.com and follow the company on Twitter at @mccangi.
About McCann Investigations
McCann Investigations is a Texas-based private investigations practice focused on comprehensive investigations incorporating digital forensics, surveillance, undercover work and background checks for clients in various case types. Service areas include intellectual property theft, non-compete enforcement, fraud, embezzlement and family law. McCann Investigators are experts in the latest computer forensics tools and are licensed with the state of Texas. McCann examiners have provided expert testimony and reporting in hundreds of cases across the state.