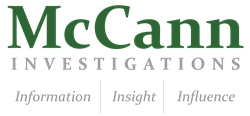 Bankruptcy crime investigations require a keen attention to detail and significant amount of skill.
Houston, TX (PRWEB) March 26, 2014
McCann Investigations, a digital security and private investigations firm that serves clients throughout Texas, announced that its Houston location now offers private investigation services specifically geared toward bankruptcy cases. McCann's new surveillance technology is a key component in gathering evidence in bankruptcy cases especially when working covert cases.
Common bankruptcy crimes include invalid or multiple filings or the concealment of assets. To uncover evidence in these types of cases, McCann's Houston-based private investigators leverage the latest hi-tech tools and methods as they analyze trails of information. The result is a comprehensive analysis that yields consistently strong results.
"Bankruptcy crime investigations require a keen attention to detail and a significant amount of skill," said Daniel Weiss, Managing Partner at McCann Investigations. "Our Houston private investigators undergo rigorous training and have all of the technologies and skills necessary to uncover elusive bits of evidence that make all of the difference in these types of cases."
As McCann's investigators research the bankruptcy case at hand, they learn about the nature of the problem and the general background of the case. They conduct an extensive review of criminal activities and other issues, and learn about all parties involved through social media presence and other sources that leave a digital footprint.
To uncover the evidence necessary in a bankruptcy case, investigators use a variety of modern digital tools and technologies to uncover unknown emails, bank accounts and other digital debris that was accidentally left behind by the perpetrator. Many cases hinge on such evidence, and McCann's Houston investigators find it as efficiently as possible.
"Our primary goal is always to deliver the best possible service to our clients, and that means finding evidence efficiently and effectively," said Weiss. "Our investigators have the skills and technologies necessary to help our clients find a positive result in their bankruptcy crime investigations."
For more information about the services provided by McCann Investigations in the Houston area, visit the company's website at http://www.mccanninvestigations.com and follow the company on Twitter at @mccangi.
About McCann Investigations
McCann Investigations is a Texas-based private investigations practice focused on comprehensive investigations incorporating digital forensics, surveillance, undercover work and background checks for clients in various case types. Service areas include intellectual property theft, non-compete enforcement, fraud, embezzlement and family law. McCann Investigators are experts in the latest computer forensics tools and are licensed with the state of Texas. McCann examiners have provided expert testimony and reporting in hundreds of cases across the state.