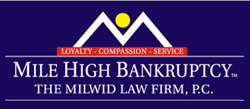 Now chapter 7 bankruptcy can be thought of as a strategy to unburden folks from problems they cannot fix by getting rid of other debts and allowing them the financial freedom to get on with their lives
Denver, CO (PRWEB) September 23, 2014
Denver bankruptcy lawyer, Peter A. Milwid, President of Mile High Bankruptcy, announced today that the firm now provides clients with free advice as to life planning decisions after Chapter 7 bankruptcy.
"Bankruptcy used to be considered a basic legal proceeding for simply cancelling debts", Milwid says, "but it is actually a life tool that has many functions outside of the economic arena."
For example, rents in Denver have risen 13% in the last year, and student loan defaults, which are not cancelled in bankruptcy, have reached record levels and record defaults. These problems have made it hard for people to finish their education or get housing in the tight market.
"Now chapter 7 bankruptcy can be thought of as a strategy to unburden folks from problems they cannot fix by getting rid of other debts and allowing them the financial freedom to get on with their lives", Milwid said. "More and more of our practice is discussing these life planning issues, and then achieving the debt relief necessary to achieve the goals of continuing education, improving housing, and lifting overwhelming psychological pressure from entrepreneurs or job seekers to find the career or business they need to lift themselves out of the hole of crushing debt."
Mile High Bankruptcy provides this service for free as part of the Denver bankruptcy process. The wisdom of over25 years of experience is available to clients in addition to top flight legal representation
####