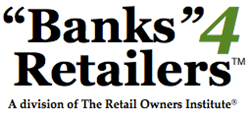 As one retailer said, "This is revolutionary. Having lenders compete for my business is empowering. I love it!"
Seattle, WA (PRWEB) December 03, 2013
With the launch of Banks4Retailers.com, The Retail Owners Institute now offers retailers worldwide the opportunity to receive financing proposals from competing lenders. All online, anytime, 24/7.
Pat Johnson, Co-Founder of The Retail Owners Institute®, said, "We have found financing organizations that combine sophisticated technology, 'Big Data', and an open mind to make access to capital available to more businesses. And now, through Banks4Retailers.com, we allow those organizations to reach out to retail businesses anywhere."
The 5 very different organizations featured on the Banks4Retailers site provide access to over 2,500 sources of financing, from traditional banks to SBA loans to "alternative lenders" to specialized investment funds. 
"Is this what they mean by 'disruptive lending'?", added Dick Outcalt, Co-Founder of The Retail Owners Institute. "We sure hope so!", he exclaimed. "Our goal is very simple: provide a free service to retailers - a no-cost, no obligation, time-saving service - where lenders compete for their business!"
"We have been building The Retail Owners Institute to train and empower retailers with better financial know-how. But the problem remained: retailers essentially must 'beg' lenders to extend funds to help their businesses survive and/or grow," said Outcalt.
"Now, with the launch of Banks4Retailers, we are able to say to retailers, 'The days of your begging are over!'" 
About The Retail Owners Institute® - Since 1999, The ROI has made the basics of retail financial management readily available to any retailer, anywhere, worldwide, 24/7. To take advantage of this online-only self-help resource, "All it takes is a little desire…and a web browser!"