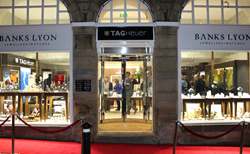 (PRWEB UK) 5 November 2015
Lancaster-based watch suppliers Banks Lyon have recently had their store redesigned to stunning effect, and to celebrate their new look they have been celebrating with two evenings of champagne, canapés and mini master classes for their guests.
Over the two nights they saw more than 150 guests pass through the store, including representatives from a number of incredibly high profile luxury watch brands such as TAG Heuer, Chopard, Bremont, Omega, Cartier and Astley Clarke. They were also delighted to have the opportunity to present their guests with exclusive one off items of jewellery.
Their mini master classes consisted of informative and informal sessions with both diamond specialists and watch experts, allowing those who attended the event to benefit from the experience of distinguished guests and to take home new and interesting information about the items which they admired while in the store.
As these nights of celebration coincided with the opening week of the new James Bond movie 'Spectre', Banks Lyon were certainly able to capture some of that red carpet glamour, with a red carpet of their own and representation from Omega – the brand behind the 'Spectre' tie-in watch. This was consolidated by the appearance of some truly incredible items of jewellery, including exceptionally exclusive one-off items of jewellery which would not usually be found outside of London.
These events also mark the beginning of what is sure to be the pre-Christmas party season, and Banks Lyon's representatives have remarked that it was an incredibly warm and rewarding way to kick off the festive period.
Maxine Banks Lyon, the marketing manager, described the event as: 'A relaxed evening with Champagne and canapés, welcoming our customers and friends into the new shop and celebrating our 30th anniversary.' Over their 30 years in the city Banks Lyon have formed strong bonds with many, and the local community were very happy to have the opportunity to celebrate their recent transformation with them, all contributing to a very relaxed yet upbeat atmosphere.
In conjunction with their new store, Banks Lyon have also had a new website launched this month, which offers a responsive and user-friendly space for customers to browse their products.
Banks Lyon Jewellers have been providing their customers with an unrivalled array of affordable and luxury watches and jewellery for 30 years. Since 1985, this family run business has combined exceptionally high quality products with outstanding standards of customer service, consistently delivering expert advice and friendly service to each and every customer. As an official and authorised stockist for a comprehensive range of luxury watch and jewellery brands, including Cartier, Omega, Breitling, Chopard, TAG Heuer, Georg Jensen, Fope and Al Coro, Banks Lyon Jewellers are a unique presence in the North West. Bringing this wide and exclusive portfolio of brands together in one location makes them truly the leading independent retailer of the region.
For more information about Banks Lyon, their refurbishment and their anniversary celebrations, visit their website at http://www.bankslyon.co.uk or call 01524 38 48 58 for more details.