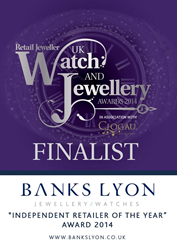 It is an exceptional result for us to reach the final six candidates.
(PRWEB UK) 4 June 2014
Banks Lyon Jewellers has been providing unparalleled service for those seeking luxury watch and jewellery products for a great number of years, and this year they have been shortlisted as a contender to win the title of 'Independent Retailer of the Year' at the Retail Jeweller UK Watch and Jewellery Awards 2014. Banks Lyon has been working towards this sort of prestigious recognition in the jewellery industry for some time, having been listed within the Retail Jeweller Magazine's top 50 results in previous years, but they have never entered the awards until now. Evidently, the growing confidence of the business has not been misplaced, as they have reached the final in their debut year.
Having submitted a 2000 word entry document and undergoing several hours of in-store scrutiny from Retailer Jeweller Editor Lauren McCreedie, all that remains is for Banks Lyon to await the forthcoming outcome. Store owner and managing director, Rodney Banks Lyon, said: "It is an exceptional result for us to reach the final six candidates, and to be acknowledged as a leading name within literally thousands of independent UK jewellery retailers. Our strengths lie within the depth of our product range, our expertly trained and experienced staff, our peerless customer service both in-store, online and using social media, and also the unique bespoke jewellery design service that we provide. It is fantastic to now see these qualities being recognised on an even wider scale".
The other five finalists for the award are Francis Wain Jewellers, Nicholas Wylde, Ring Jewellers, Tustains and Winsor Bishop, and competition is expected to be very stiff between this very capable group of candidates. The Banks Lyon team remain philosophical about their chances, yet ardently believe that their place in the final six has been well earned, with the nearest fellow nominee located over 160 miles from their premises. Having differentiated themselves from other jewellers by dispelling the myth that quality is always equated with price, and famously treating each and every customer in the same personal way, regardless of the price of their purchase, Banks Lyon's nomination is likely to be a strong one.
Mr Banks Lyon added: "This is a truly incredible recognition for a long standing family run business based in the North West of England. This is in no way about me as an individual; it is instead about my team as a whole. I'm very fortunate to have a team who are both dedicated and loyal, and who have benefitted from professional training and gained years of experience that enables them to help in every way that the Banks Lyon business requires, and because of this I very much treat and think of them as my own family."
Banks Lyon Jewellers have been providing their customers with an unrivalled array of affordable and luxury watches and jewellery for more than 27 years. Since 1986, this family-run business has combined exceptionally high quality products with outstanding standards of customer service, consistently delivering expert advice and friendly service to each and every customer. As an official and authorised stockist for a comprehensive range of luxury watch and jewellery brands, including Rolex, Omega, Chopard, Cartier, Breitling, and TAG Heuer, Banks Lyon Jewellers are a unique presence in the North West. There is no other jeweller in the North West, including Manchester and Liverpool, that has such a wide and exclusive portfolio of brands in one location.
The announcement of the Independent Retailer of the Year Award 2014 will be revealed on the night of July 2nd. For further information about Banks Lyon Jewellers, visit their website at http://www.bankslyon.co.uk or call their experienced team on 01524 38 48 58.