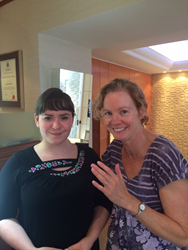 I rang Mrs. Cheal, who was absolutely delighted, and soon afterwards she called in to the store
Lancaster, Lancashire (PRWEB UK) 3 September 2014
Banks Lyon Jewellers has built up a reputation for outstanding customer service over the many years that they have been in business, recently receiving the title of 'Independent Retailer of the Year' at the prestigious Retail Jeweller UK Watch and Jewellery Awards 2014 for their efforts, but a Banks Lyon staff member has recently gone to extraordinary lengths to return a lost wedding ring to its rightful owner. Catherine Anderton spotted the ring in question lying discarded on the pavement, and, using her broad experience in handling fine jewellery, she set about searching for the individual who had misplaced it.
From the hallmark, it was quickly apparent to Ms. Anderton that the ring was an expensive piece of jewellery, crafted from no less a material than platinum, and so she elected to store the ring securely in the Banks Lyon safe and immediately notify the police. Following this, she took pains to scrutinise the inscription, which revealed an engraving that referenced the name of a church and a date from 2003. Thanks to the unusual name of the church – "St. Eadmers" – Ms. Anderton was able to search the internet to identify its location in Bleasdale and find contact details.
Ms. Anderton said: "I rang the vicarage's number and initially spoke to the vicar's wife. She in turn passed the information on to her husband, and he was then able to refer to his records. It was quickly apparent that there had only been one wedding on the date in question, and, after recognising the family name, the vicar contacted a known friend of the couple, who in turn contacted the father of the bride who owned the ring. Following the exchange of phone numbers, I rang Mrs. Cheal, who was absolutely delighted, and soon afterwards she called in to the store".
A positive outcome from the situation must have appeared improbable to Mrs. Cheal when she realised that her wedding ring had gone astray, but nevertheless she was reunited with her prized wedding ring at the Banks Lyon premises in Lancaster, thanks to the concerted effort that had been made by Catherine Anderton. The Banks Lyon team had also been only too pleased to subject the lost ring to a clean and light polish whilst Mrs. Cheal was being tracked down, so when it was finally returned, it was in a far superior condition to when it had been originally mislaid.
Banks Lyon Jewellers have been providing their customers with an unrivalled array of affordable and luxury watches and jewellery for more than 27 years. Since 1986, this family run business has combined exceptionally high quality products with outstanding standards of customer service, consistently delivering expert advice and friendly service to each and every customer. As an official and authorised stockist for a comprehensive range of luxury watch and jewellery brands, including Rolex, Omega, Chopard, Cartier, Breitling, TAG Heuer, Georg Jensen, Fope and Al Coro, Banks Lyon Jewellers are a unique presence in the North West. There is no other jeweller in the North West, including Manchester and Liverpool, that has such a wide and exclusive portfolio of brands in one location.
For further information about Banks Lyon Jewellers, please visit http://www.bankslyon.co.uk to view their website, or contact their staff team by calling 01524 38 48 58.