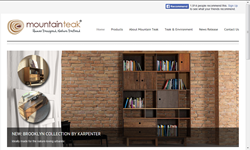 We do everything possible to provide the best in minimalist, attractively designed teak wood and timber furniture.
London, UK (PRWEB) February 25, 2015
The size of the stand will be governed by the space at the exhibition but the majority of people end up buying 3x2, 3x3, or 3x4 pop up stand. The curved model of these stands is the standard type that most businesses use.
One of the executives quoted, "Everyone in an exhibition area needs some sort of display. It's no good turning up, if you reach there with some hand-outs and a smile, you need something to draw attention to the products you have to offer. Exhibition pop up stands come in varying heights and widths. They can have custom extras and integrated pieces for product or literature display. In fact there is a lot that you can do with a pop up stand. An average pop up display is a 3x3. The size of a 3x3 is typically 2.5m wide by 2.2m tall which is suitable for average trade show areas."
Stand Banner introduces pop up display stands that are available with 24 hour turnaround printed directly from the artwork. 3x3 pop up stands are portable, easy to use solutions for exhibitions and conferences. They are 254 cm wide and stand straight with 270 cm width x 225 cm height. The stands have magnetic bars and the printing on the banner is 1440dpi and are anti-scuff laminated. Also, there is a 10 year hardware guarantee that comes with the stands.
The executive further added, "Our 3x3 exhibition pop up stands are quite eye catching and get a lot of attention at the exhibitions and also provide optional design service for your exhibition pop up display stands. We also offer free advice and guidance for the perfect display."
Stand Banner designs and manufactures all kinds of banners under one roof. They have a wide range of banner stands to offer. Also there are many kinds of exhibition banners designed for many different purposes and sizes to suit the budgets and needs of people. From standard and entry level banners to deluxe banners for exhibitors, they make all. Pop up exhibition stands, roller banners and outdoor displays.
About Stand Banner:
They have 25 years of experience in the design and manufacture of trade show stands for portable promotional marketing. Stand Banner takes care of all the exhibiting needs of the companies. They have high quality pop up stand banner. Also they specialize in exhibition stands, from single and double sided options to big banners for promotion. They are also the leading designers and manufacturers of pop up trade show stands.
Contact Information:
Address : 5 Fareham Road
Feltham,
London, TW14 0EQ
Phone: 01639 895 694
Email: sales(at)standbanner(dot)co(dot)uk
Website: https://www.standbanner.co.uk/
###