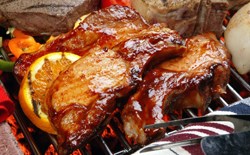 Black and White Affairs BBQ Packages are Perfect for Wedding Catering
Rio Linda, CA (PRWEB) August 06, 2013
Wedding season is in full swing and Hickory Hanks BBQ has some sage advice on planning weddings and all that goes into this special event.
Many brides would shudder at the thought of ruining their perfectly white dress with barbecue, but Hickory Hanks isn't one of those sloppy, bib-required types of barbecue places. They serve sophisticated, gourmet BBQ appropriate for any black-tie affair.
Hickory Hanks understands all that needs to go into planning a reception, especially one where the guests will be dressed in their finest. They can deliver freshly prepared meals to the reception location or cook all the food on site with their own equipment.
Hickory Hanks also offers "Black and White Affairs" packages, perfect for wedding catering. These services can also be customized to make sure the wedding party and guests get the food they want, when and how they want it. Our professional and courteous staff is trained to make the event run like clockwork.
From small intimate wedding receptions to huge affairs – Hickory Hanks has served as many as 2,500 at a time – they can provide mouthwatering fare for any sized event. The food is always served fresh, never left in chafing dishes or warming trays, so guests will definitely appreciate the superior taste.
Contact Hickory Hanks today for a truly special experience, (916) 349-2714, or visit their website for more information.
About the company:
Stigmatized. Stereotyped. Barbecue has been frowned upon as the fare of country bumpkins. Not anymore. At Hickory Hank's, Sacramento's premier barbecue catering service, they serve barbecue that belies its humble origins (much like simple Cajun country cooking has been elevated to gourmet status). Not the boring, everyday catering service, Hickory Hanks specializes in corporate catering, event catering and wedding catering. This is barbecue as haute cuisine; prepared and served with elegance by experienced banquet caterers. They serve food that customers will be proud to offer guests at the most noble of functions. So don't expect warmed-over, slapped-on-your-plate-like-you're-in-an-army-mess-hall kind of fare. This is sophisticated barbecue for discriminating tastes, cooked on site so it's fresher than fresh and served with dignity by courteous professionals. Contact Hickory Hank's Bar-B-Q today by phone at (916) 349-2714 by fax to (916) 991-5203 or email hank(at)hickoryhanksbarbq(dot)com or visit their website at http://www.hickoryhanksbarbq.com.