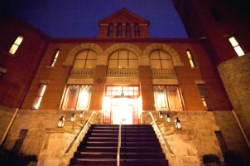 Tonawanda, NY (PRWEB) August 07, 2013
Mid-summer means Christmas is six months away and it's time for most companies to start planning for their annual staff party. Last year saw a major increase in the booking of company holiday parties and things are looking up again for 2013. Those looking for a place to hold their Christmas party this December should consider the unique and beautiful banquet rooms at the Tonawanda Castle.
For the previous few years, budgets for holiday events had been on the decline. Some companies altogether forewent parties for their employees; many others repeatedly scaled back the event. Now, the renewed enthusiasm for company parties comes with a restyled vision. Gone are over-the-top decorations and massive buffets. The new trends focus on quality elements, especially when it comes to food. The most popular events are relaxed and interactive. Long banquet tables and hours of sit-down service have been replaced with flexible arrival times and station style-dining. Cocktails and entertainment are interspersed with the meal service to encourage mingling.
The Tonawanda Castle is a great place to hold an annual company party because the staff at the Castle offers lots of flexibility in planning events. Last season, the Tonawanda Castle had many different styles of company parties, with everything from big bashes to small intimate gatherings. Feel free to get creative, especially integrating themes that relate to the company's mission. For example, one organization that works with the vision impaired created a dining event at which guests will be blindfolded to heighten their other senses, especially taste. Concentrating on the taste of the delicious food at the Tonawanda Castle is quite easy to do, whether blindfolded or not. Almost everyone will agree that great food makes a great party. With two talented chefs and fully customizable menu options, the cuisine at Tonawanda Castle is sure to delight guests of all kinds.
The most important thing to think about with revamped company parties is the focus on employee appreciation. A recent survey published on Meetpie.com contends that the majority of companies believe that it is extremely important for them to hold an office Christmas party. The article lists boosting morale, promoting a sense of community amongst employees, and rewarding staff for their hard work as the three main reasons for holding such gatherings. Planning a party that makes employees feel appreciated is easy at a venue like the Tonawanda Castle, where the staff knows the importance of understanding the company's character and tailoring the event based on that information. Find out what makes an evening celebration at the Tonawanda Castle such a rewarding experience for companies and their employees.
To find out more about Tonawanda Castle's banquet halls and wedding venues, visit http://www.tonawandacastle.com or call 716-743-8544.
About the Company:
For more than 115 years, the Tonawanda Castle - formally known as the Tonawanda Armory - has presided over Delaware Street in the City of Tonawanda with an unmistakable historical elegance. After years of extensive renovations, this unique facility provides a beautiful and memorable setting for wedding receptions, conferences, corporate meetings, black-tie galas, fundraisers and so much more.
Their dedicated staff works to create a personalized event in one of the Western New York region's most exquisite settings. The Tonawanda Castle is a venue rich in history and brimming with elegant ambiance.