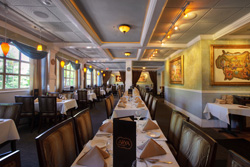 Cupertino, CA (PRWEB) May 02, 2014
Arya Global Cuisine is celebrating Mother's Day with a special elegant brunch. Sunday, May 11, the restaurant will be offering a variety of delicious food items as well as some exciting musical performances.
A champagne brunch menu will be available from 11 a.m. to 3 p.m. The brunch menu includes drink options of champagne, orange juice, soft drinks, coffee or hot tea, as well as three courses of delicious food. After that, a three-course dinner menu will be available starting at 4 p.m. Some of the featured dishes at both the brunch and dinner include mushroom ravioli, vegetarian kebob, pollo Firenze and grilled salmon. The dessert will be a chocolate duet.
During both brunch and dinner, guests will be treated to a special live performance by Italian tenor Pasquale Esposito. He will only be performing at the Cupertino location; however, there will be live smooth jazz music at the Redwood City location.
The Mother's Day Brunch costs $39.95 per person plus tax and tip. Children ages 4-12 cost $19.95. For more information or to make a reservation, call 408-996-9606 or visit Arya's website.
About the company:
San Jose's Arya Restaurant is a Middle Eastern restaurant that features belly dancing, global cuisine, and delicious and exotic Persian and Italian food. With two locations in Redwood City and Silicon Valley/Cupertino, the restaurant is the result of Chef Mike Hashemi's love for Persian and Italian food, as well as his love for cooking and serving people with the best of both worlds. Arya's San Jose banquet rooms are available for every occasion as well as corporate catering and private dining. Arya is the premier Persian restaurant in Cupertino and Redwood City, California. They are committed to providing each and every guest with superior service and a pleasant dining experience. For more information, visit their website at http://aryarestaurant.com.