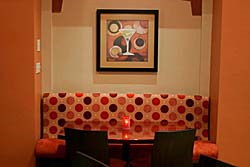 San Mateo, CA (PRWEB) June 24, 2014
With salmon season in full swing, Porterhouse San Mateo is bringing their customers an exclusive chance to experience Copper River King Salmon. Porterhouse is one of the first and only restaurants anywhere in the San Francisco Bay Area or Silicon Valley to feature these fish on their menu. Their incredible flavor reflects a deep understanding of this great Alaskan fishery, and is something not to be missed.
Porterhouse San Mateo will be featuring Copper River King Salmon for only a limited time so customers should take advantage of this opportunity now. The fish will be available throughout June and July, sustainably harvested from one of the best-managed fisheries in the world. These unique fish thrive in the frigid Price William Sound and Copper River, and will be available in limited quantities. For more information on Copper River Salmon, visit http://copperriversalmon.org/.
For more information or to make a reservation, call 650-579-5911 or visit http://www.porterhousesanmateo.com/.
About the company:
Tucked away in the heart of downtown San Mateo, PorterHouse is a brand new destination, offering exceptional food and service alongside an amazing interior decor. PorterHouse is elevating the steakhouse experience to another level. With European-toned marble flooring, high wooden ceilings and stunning chandeliers, their steakhouse houses a bar and lounge with a blend of bright walls, dim lights and vibrant paintings; a dining room with private booths, wooden shutters and silk drapes, and a four seasons patio with a Venetian look, surrounded by a flower bed and glass walls. PorterHouse also offers four gorgeous banquet rooms that could accommodate all private dining needs. Whether it is a romantic dinner, entertaining some friends and family, having a business meeting, or hosting a private party, PorterHouse will provide the ideal setting for your next outing. For more information, visit their website at http://www.porterhousesanmateo.com.