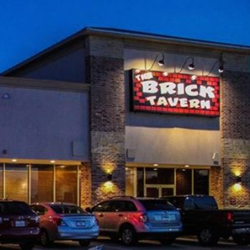 Best Flat Bread Pizza & Burgers in Sachse, Texas.
Sachse, TX (PRWEB) July 17, 2014
The Brick Tavern is proud to announce this event benefitting Wounded Warriors in Sachse, Texas. The Bar & Grill will be serving food and drinks all day continuing into the night until 1am. There will be awards given at the show for Bikes, Cars, Boats, and Trucks. For more information, visit BrickTavernSachse.com.
A professional photographer and video crew will be on site creating media packages for car owners to show off on social media & websites. Professional military pin-up style models will be included to make things more interesting. Other things include a raffle, silent auction, car wash, and face painting for the kids.
The Bar & Grill in Sachse, TX will be serving up delicious food and has a full bar to serve up people's favorite drinks and beer. This restaurant in Sachse will be offering menu items like Salads, Burgers, Chicken & Turkey Sandwiches, Grilled Ham & Cheese, Chicken Wings, Stuffed Meatballs, Flatbread Pizza, and much more. Be sure to check out the website for a full listing of all the appetizers and what not.
The live band will kick off around 7pm inside the Tavern with some of the best music this side of the Mississippi. There are also pool tables and dart boards for people who want to do a little something while eating, drinking, and enjoying the live music.
The Bar will be featuring alternating drink specials throughout the day at certain times so be sure to ask about it. For more information visit BrickTavernSachse.com.