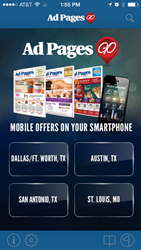 Coupon and deal apps work hand in hand with print to extend a publisher's reach.
Dallas, TX (PRWEB) March 31, 2014
Everyone is interested in a good deal which is why Ad Pages, a local couponing publication, has been thriving for over 25 years. While the success of the print publication will carry on, the Ad Pages GO iPhone and Android apps, developed by Bar-Z, are now bringing additional coupons to local audiences in Dallas/Ft. Worth, Austin and San Antonio, TX, and St. Louis, MO.
"We launched Ad Pages GO to allow local business owners to have an affordable way to reach local consumers in a more engaging manner. Our print publications have been reaching millions of households every month for over 25 years with great printed coupons, but we realized the landscape was changing," said Aaron Dolton, Chief Digital Strategist, Ad Pages Companies.
Ad Pages worked with Bar-Z, a mobile solutions provider based in Austin, to create apps that deliver more value to the Ad Pages advertisers and open new revenue channels.
"Bar-Z works with publishers to help deliver content to audiences on whatever device they may have with them, working hand in hand with their print offerings. Since consumers always have their phones with them, redeeming coupons via mobile is quick, easy and convenient. We are excited to now help Ad Pages expand into mobile," said Lee Little, Founder and CEO, Bar-Z.
The app takes advantage of location-based services to offer coupons relevant to consumers' current location, delivering deals for restaurants, entertainment, health and beauty, services, and retail shopping locations. Unique coupons appear in the app from those featured in the magazine, providing an additional way for consumers to save money.
"We find that our app is a great compliment to the advertising our merchants are already doing in print and other digital Ad Pages products. We are growing our downloads through our magazines and seeing great results in just our first month of being live in the app stores," said Dolton.
The app was first launched in the DFW area with Austin, San Antonio and St. Louis to follow in the next few months.
About Ad Pages Companies
Ad Pages was started as a direct mail magazine in Dallas, Texas. At the time Ad Pages had zero employees, zero capital and zero customers. Ad Pages did have, however, a wonderful idea to offer direct mail coupons within a magazine format. The goal was to create a magazine so attractive and so filled with usable coupons that readers would notice it in the mailbox and then value it enough to keep it around the house for constant use. The concept has worked exceptionally well. Now, over 25 years later, Ad Pages is mailing over 20 million magazines throughout 80+ individual DFW, Austin, San Antonio, & St. Louis communities and suburban markets every year. With the addition of digital offerings like daily deals and mobile apps, Ad Pages continues to provide savings in your mailbox, your inbox, and now in your pocket - on your mobile phone. For more information, visit http://www.adpages.com or http://www.adpages.com/go.
About Bar-Z
Bar-Z delivers custom branded mobile and web apps faster than a speeding bullet and is an industry leader in the development of these applications. The company delivers creative, editorial and commercial content to people on multiple devices through their leading cross-platform publishing solution. Bar-Z creates apps for a variety of industries including higher education, publishing, broadcasting, destination marketing and tourism. To learn more about Bar-Z, click here.