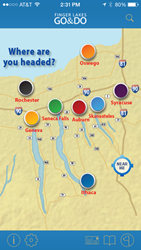 Design of the app was an important piece and the Bar-Z platform offers a good framework to build upon with the customization we needed.
Auburn, NY (PRWEB) August 05, 2014
Local content experts, the Auburn Citizen and Skaneateles Journal, have launched a new mobile app resource for what to go, see and do in New York's Finger Lakes area. The Finger Lakes GO & DO iOS and Android apps were developed by Bar-Z and are now available for free download from the Apple App Store and Google Play app store.
Cayuga Media Group, a division of Lee Enterprises, is adding the app to their current portfolio of print and online products. It is a new offering to their audience and advertisers but has close ties with their regional magazine, Go & Do.
"We are in a unique position to take advantage of our strengths in local information and monetize it to meet the needs of the population that wants mobile content. We are seeing that a lot of people and local businesses want to participate in apps but don't have the resources to build their own, so we are able to fit that need," said Robert Forcey, Publisher and President, Cayuga Media Group.
The app covers a wide geographic area including the communities of Rochester, Geneva, Seneca Falls, Auburn, Skaneateles, Syracuse, Oswego and Ithaca. Each city has its own unique section in the app featuring listings that fall into categories such as dining, lodging, shopping, activities, nightlife, wineries, events, and business services.
Cayuga Media partnered with Bar-Z to develop the apps with software that allows continuous updates with new content and updated information.
"Bar-Z brought a lot of experience and professionalism to the table to help build and launch our app. Design of the app was an important piece and their platform offers a good framework to build upon with the customization we needed," Forcey said.
"We are excited to work with Cayuga Media on their Finger Lakes GO&DO apps. The area is beautiful and there are dozens of things going on year-round," said Wm. Lee Little, CEO, Bar-Z. "We know that the Auburn Citizen and Skaneateles Journal are the perfect organizations to capture all of this information and effectively deliver it to their audience in this robust app."
The apps also include access to weather forecasts, GPS "Around Me" maps for location-based suggestions and a digital postcard feature allowing users to create, customize and share souvenir images from within the app. Local businesses can work with the Auburn Citizen and Skaneateles Journal to purchase listings in the app to reach the local and visiting populations.
About Cayuga Media Group
Cayuga Media is dedicated to the needs of our customers in both print and digital advertising by providing the solutions to engage, inform and connect. Through our portfolio of products like The Citizen, auburnpub.com, skjournal.com, the Skaneateles Journal, or This Week in Cayuga County, we help advertisers reach the largest percentage of the adult population in Cayuga County than any other local media source.
High-quality community journalism that's recognized as some of the best in the state applies to more than just the printed daily newspaper, The Citizen. Our website, auburnpub.com, and its associated mobile and iPhone app versions, have been honored by multiple New York state news media organizations for its blogs, videos, photo galleries and other multimedia content. And our readers have noticed, too. Digital products have experienced double-digit percentage audience growth consistently over the past five years. With more than 300,000 monthly unique visitors and growing, we are clearly the dominant online news and information source in our market.
About Bar-Z
Bar-Z delivers custom branded mobile and web apps faster than a speeding bullet and is an industry leader in the development of these applications. The company delivers creative, editorial and commercial content to people on multiple devices through their leading cross-platform publishing solution. Bar-Z creates apps for a variety of industries including higher education, publishing, broadcasting, destination marketing and tourism. For more information, visit http://www.bar-z.com.