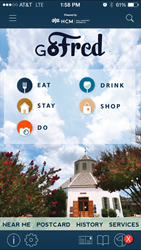 Fredericksburg, TX (PRWEB) October 29, 2014
GoFredericksburg, the semiannual visitor's guide published by Fredericksburg Publishing Company, is giving visitors a new way to experience the Texas hill country destination through an app, "GoFred," for iPhone, iPad and Android device users. The app, developed in partnership with Bar-Z, provides visitors with a convenient way to find top attractions, as well as a new advertising avenue for local businesses. GoFred is now available for download from the Apple App Store and Google Play app store.
Fredericksburg Publishing Company, publisher of the Fredericksburg Standard-Radio Post, wanted to help Fredericksburg's 1.5 million annual visitors easily find the top attractions in town and to help local businesses get these potential customers to easily find them. Once downloaded, app users can find information on things to do and where to go, eat, drink, stay and shop right at their fingertips. Each of these main sections provides information on the businesses in town in addition to a local services section.
"Bar-Z helped us design a professional app that will help our visitors navigate the best things offered in our wonderful hill country town. People across the country can download it and use 'GoFred" to see this unique destination," said Ken Esten Cooke, publisher and editor.
While basic listings are already included in the app to advertisers in the printed visitors guide, businesses will also have the opportunity to purchase an expanded listing to offer more detailed information. Expanded listings include a business description, photo gallery and video, GPS location with turn-by-turn directions, a "click to call" phone listing, social media links and the opportunity to offer digital customer coupons. The app's major sponsor is Hill Country Memorial Hospital.
"We are excited to work with the Fredericksburg Publishing Company to create an app for the Fredericksburg area that is the only app of its kind, strictly for visitors and featuring GPS. The app will only get better and better as more businesses take advantage of the opportunity to expand their listings in order to reach and entice potential customers," said Wm. Lee Little, CEO of Bar-Z.
For those who download the app, Fredericksburg Publishing Company, is currently holding a contest which can be entered by filling out a form in the app with the user's first name, zip code and email address (which will not be given to third-parties). Customers could win a $100 cash prize, a half-day wine tour for 2 from Texas Wine Tours or a movie theater package to Fritztown Cinema. Regardless of whether an individual is chosen as a contest winner, all who download the app can benefit from the included coupons and deals by showing the app to the merchant at the time of purchase.
Additional content, and eventually video, will be constantly added to the GoFred app.
About Fredericksburg Publishing Company
Fredericksburg Publishing Company is parent company of the Fredericksburg Standard-Radio Post, GoFredericksburg Visitors Guide, Rock & Vine wine and lifestyle magazine, Fredericksburg Art Guide and other publications.
About Bar-Z
Bar-Z delivers custom branded mobile and web apps faster than a speeding bullet and is an industry leader in the development of these applications. The company delivers creative, editorial and commercial content to people on multiple devices through their leading cross-platform publishing solution. Bar-Z creates apps for a variety of industries including higher education, publishing, broadcasting, destination marketing and tourism. For more information, visit http://www.bar-z.com.
About Moser Community Media LLC
Moser Community Media, LLC is a newspaper management company serving community newspapers across Texas. Currently, they manage 21 newspapers, including the Fredericksburg Standard Radio-Post and San Marcos Daily Record.