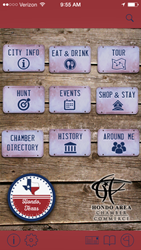 "Hondo is a large hunting community and people travel from all over Texas to take part in the sport. The app was designed to aid in finding outfitters, guides and hunting locations in the area."
Hondo, Texas (PRWEB) November 26, 2014
Nestled at the backdoor of the Texas Hill Country and just west of San Antonio is Hondo, Texas. For Chamber of Commerce Director Lisa Finger there was something that needed to change, "We have hunters and tourists come through Hondo, "on their way" to other areas. We had basically become a "pass through town". I wanted to give people a reason to stop and check out our town." From this idea stemmed the Hondo Chamber of Commerce's recently published GoHondo app in an attempt to reach out to visitors.
The iPhone and Android apps are currently available for download from the App Store and Google Play. They contain information on where to eat, shop, stay and even hunt in Hondo. Users who download the app will also find other information on the city like its history and year-round event listings. The Hondo Chamber of Commerce has also provided their full chamber directory in the app.
Mobile app development firm, Bar-Z, assisted in creating the graphics to give the app that Texas "feel". The company offers a la carte supplemental services to fit the needs of each specific project and organization it works with.
"We are excited to work with Hondo to develop an app that shares its unique story and orients visitors to the area. Providing our full suite of services, including graphic design, helped us speed-up the app development process so they could launch the app in time for this fall's hunting season," said Wm. Lee Little, CEO of Bar-Z.
Hondo is rooted in a lot of history. Two bank robberies took place one night by the famed Newton Gang, the most successful outlaws in the country. The U.S. Army brought an airfield to the city the same year it was incorporated in 1942. It was the largest air navigation school in the world at one point in time, and trained over 14,000 air servicemen during World War II before it closed. At the entrance of town still stands the well-known Hondo Lions Club sign that reads "This is God's Country, Please Don't Drive Through It Like Hell." The sign is featured upon launch of the app as well as in the Tours section. The history is not the only thing that makes this town special; there is a lot of agritourism. With its proximity to San Antonio and affordable cost of living, the city is also growing with major employers looking at Hondo for relocations or extending their reach with an alternative site location there.
Finger and the rest of the chamber are using the growth of the city to their advantage hoping that the app will therefore be a success through their marketing efforts. They are in talks to obtain billboards east of town and west of town to get the word out to people passing through. They are also advertising in the local paper and hope to start advertising statewide in January.
About the Hondo Chamber of Commerce
The Hondo Area Chamber of Commerce is a membership-based organization that exists to enhance the growing business climate and promote vitality and quality of life in the Hondo area. All benefits, programs and events of the Chamber are designed to give businesses the opportunity to gain exposure to new clients and customers, make or save money, acquire knowledge and skills, and/or make new business connections. The benefits of membership are numerous and we encourage you to look through the website and learn more about the Chamber.
About Bar-Z
Bar-Z is a mobile software development firm based in Austin, TX. Bringing 9 years of experience, the company offers a variety of unique customized digital solutions for a variety of niche industries. Bar-Z works with organizations such as publishers and broadcasters, theme parks and attractions, municipalities, convention and visitor bureaus, and destination marketing organizations to help them engage and communicate with their audiences and realize new revenue opportunities. For more information, visit http://bar-z.com.