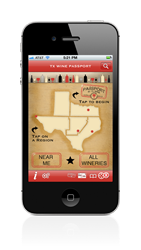 Mobile loyalty programs provide an effective way to engage with audiences and support business.
Austin, TX (PRWEB) February 20, 2014
Bar-Z is revolutionizing loyalty programs by bringing them into the world of mobile technology with interactive passport apps. Completely digitized loyalty programs that use an interactive passport concept engage users in a new convenient medium.
"We are excited to introduce the new mobile loyalty program as part of our Full Digital Platform. It provides one more way for our clients to actively engage with their audiences and support the businesses listed in their apps," said Wm. Lee Little, Bar-Z founder and CEO.
Tourism organizations, industry associations, community marketplaces, publishers and retail chains can all work with Bar-Z to create mobile passport apps that build customer loyalty and drive new and repeat business. Flexible software can be customized for different industries, reward formats and redemption levels.
The Texas Wine and Grape Growers Association worked with Bar-Z to convert its old Texas Winery Passport book to a completely mobile program available for download on iPhones and Androids. Tourists visit wineries and check-in with a code provided by the winery to "stamp" their passport. Guests earn points which are then redeemed for discounts at participating locations. Bar-Z is developing similar passport apps for the New Mexico Wine Growers Association and the Massachusetts Farm Winery and Growers Association.
"We are pleased with the initial results of the mobile passport apps and the visitors directed to Texas winery tasting rooms. We are excited to grow the mobile app participation and advertising opportunities," said Texas Wine and Grape Growers Association Executive Director Debbie Reynolds.
The St. Tammany Parish Tourist and Convention Commission in Louisiana is offering a culinary passport within their "Eat Drink Enjoy: Lousiana's Northshore" app to encourage diners to explore restaurants in the Parish which is located 45 minutes north of New Orleans. Diners collect six stamps in their passport at participating restaurants in order to win a portable insulated cooler from the Commission.
Newspapers are also participating in the mobile passport trend in order to increase their audience and support local advertisers. The Hutchinson News out of Hutchinson, Kansas partnered with Bar-Z to create a digital marketplace solution which includes a responsive design website with deals, coupons and business directories as well as the "HutchGPS: Go. Play. Shop." native application with the mobile passport feature encouraging users to shop locally.
Bar-Z offers a full suite of mobile solutions to support a variety of niche industries including visitor guides, readers' choice contests, digital marketplaces, college campus tours, high school sports apps and more.
About Bar-Z
Bar-Z delivers custom branded mobile and web apps faster than a speeding bullet and is an industry leader in the development of these applications. The company strives to deliver creative content to people on whatever device they happen to have with them including Apple iPhone and Google Android devices. Our goal is to become the leading cross-platform publishing solution. Bar-Z creates apps for a variety of industries including higher education, publishing, broadcasting, destination marketing and tourism. For more information about Bar-Z, visit http://www.bar-z.com.