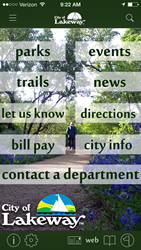 With app use growing at a rapid rate of 62 percent of time Americans spend on their smartphones, apps can be a vital resource for sharing information for communities and all they have to offer.
Austin, TX (PRWEB) November 20, 2014
Mobile-app firm, Bar-Z, has seen a growing trend in cities and municipalities desiring to reach out to their residents and visitors through custom mobile solutions. iPhone, iPad and Android apps along with responsive-design websites can reach citizens on any device while supporting city goals, tourism initiatives and economic development.
With app use growing at a rapid rate of 62 percent of time Americans spend on their smartphones, apps can be a vital resource for sharing information for communities and all they have to offer. Bar-Z offers a comprehensive system that provides municipalities the opportunity to meet citizen, community and city needs all with a single platform that utilizes a cloud-based CMS. Products like these can assist cities in handling maintenance issues such as the repair of roadways and cleaning of graffiti by enabling citizens to easily report problems. Other features that are of great use to cities and residents include the ability to provide directories of city departments with contact information, offer details on city services, and push notifications for community announcements or news regarding weather advisories, road closures, election results and more. Local business can also be featured in listings to guide residents and visitors on where to eat, play and shop.
The City of Peoria, AZ launched their app with Bar-Z back in 2011 when they saw the importance in going mobile. The city is known as the spring training home of the San Diego Padres and Seattle Mariners, who share the Peoria Sports Complex. The app has much to offer all types of visitors, not just sports enthusiasts. Users will find a number of self-guided tours that provide unique insight and suggested stops to make their experience in Peoria more memorable.
The City of Gonzales, TX enlisted Bar-Z to develop an app with the goal of helping the city become more tourist-friendly by providing an easy solution to discovering all that Gonzales has to offer. The app, Tour Gonzales Texas, has all the local businesses and attractions included as points of interest. It also features a completely self-guided and interactive Historic Home Tour, which includes over 80 homes.
Loretta Shirley, with the City of Gonzales, has trusted Bar-Z to build and maintain the city's app and continues to work with the company to this day, "The staff at Bar Z is always extremely helpful and quick to respond any time I have a question or need something. They are professional and friendly. They will always work through any problem that I have until we find a solution."
Mike Hofman, Executive Director, Orange City, Iowa Chamber of Commerce had similar comments after their recent app launch for their city, "We are grateful for Bar-Z's team and the many ways they helped bring our app to fruition. The service they provided was timely and personal; their greatest interest was ensuring that our app was developed in the way we envisioned it would be."
Additional cities across the U.S. have trusted their mobile solution projects with Bar-Z, including Osceola, IA, Southfield and Frankenmuth, MI, Mammoth Lakes and Pasadena, CA, Rosemont, IL, Lake Charles and Shreveport-Bossier, LA, Sevierville, TN and Lakeway, Llano, Hondo, Blanco, Kilgore and Rockport, TX.
The company is exhibiting at the National League of Cities Congress of Cities & Exposition in Austin on November 19-21 to display its municipality solutions.
About Bar-Z
Bar-Z is a mobile software development firm based in Austin, TX. Bringing 9 years of experience, the company offers a variety of unique customized digital solutions for a variety of niche industries. Bar-Z works with organizations such as publishers and broadcasters, theme parks and attractions, municipalities, convention and visitor bureaus, and destination marketing organizations to help them engage and communicate with their audiences and realize new revenue opportunities. For more information, visit http://bar-z.com or call (512) 732-0132.