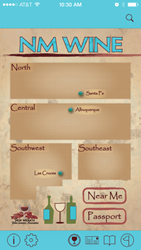 We are excited to develop a mobile wine trail passport app for the oldest wine producing region in the country!
Las Cruces, NM (PRWEB) March 31, 2014
The New Mexico Wine Growers Association launches the New Mexico Wine Trails app to provide a mobile passport-style loyalty program for use on iPhone® and Android® mobile devices and tablets. The free app, developed by Bar-Z, is designed to reward consumers for visiting wineries across New Mexico, the oldest wine producing region in the country.
"The goal of the app is to spread awareness about NM wines and to drive customers to our tasting rooms. We feel that by adding this app to our website, and print materials, we can reach several demographics that enjoy good wine and traveling," said Bridget Salopek, Executive Director, New Mexico Wine Growers Association.
Users sign-up and register in the app to start earning rewards. Upon a $10 purchase during a visit to a winery or wine festival, users receive a code to "stamp" their passport. Once 10 stamps have been earned, the passport can be electronically redeemed for a reward. As more stamps are earned, users can continue to earn subsequent rewards beyond the initial 10-stamp redemption. Rewards change based on availability but range from wine stoppers and wine carriers at the first redemption levels up to wine event tickets and the grand prize of a weekend stay at a New Mexico destination.
The New Mexico Wine Trails passport app replaces the association's paper-based passport program that originally launched in 2011.
"The first year was a great success but we have seen a slight decline in participation. That is why the app is so great! You don't have to keep track of paper passports and stickers. You always have it with you in your Smartphone," said Salopek.
The NM Wine Growers Association worked with Bar-Z, a mobile development firm based in Austin, TX, to develop the app. Bar-Z's innovative mobile loyalty card software helps organizations transform their paper or card-based programs into Smartphone apps.
"We are excited to work with the New Mexico Wine Growers Association to create a mobile wine trail passport app for the oldest wine producing region in the country. Replacing their paper-based loyalty program with a mobile app will help increase participation in the program and their success is our success," said Wm. Lee Little, Founder and CEO, Bar-Z.
The app includes all of the member wineries and serves as a winery guide for those traveling through New Mexico. Additional listings such as B&B's, restaurants and other wine related businesses may be added in the future.
About New Mexico Wine Growers Association
New Mexico Wine Growers Association is a non-profit organization dedicated to support and promote the wine industry of New Mexico in every aspect, from agriculture to retail. To learn more visit http://www.nmwine.com.
About Bar-Z
Bar-Z delivers custom branded mobile and web apps faster than a speeding bullet and is an industry leader in the development of these applications. The company strives to deliver creative content to people on whatever device they happen to have with them including Apple iPhone and Google Android devices. Our goal is to become the leading cross-platform publishing solution. Bar-Z creates apps for a variety of industries including higher education, publishing, broadcasting, destination marketing and tourism. For more information, visit http://www.bar-z.com.