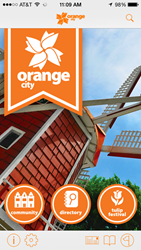 The app serves visitors and locals of a city with traditional heritage in a new, modern medium.
Orange City, IA (PRWEB) May 29, 2014
Orange City Iowa may offer visitors and residents a glimpse at traditional "Old World" Dutch heritage, but they've now embraced new Smartphone app technology to do it. The Orange City Chamber of Commerce partnered with Bar-Z, a mobile app and web development firm, to develop the apps for iPhones and Androids which are now available for free download.
The Orange City Iowa app is one of the first of its kind for the area and serves as a quick, user-friendly information source for both Orange City visitors and community members.
We are grateful for Bar-Z's team and the many ways they helped bring our app to fruition," says Mike Hofman, Executive Director, Orange City, Iowa Chamber of Commerce. "The service they provided was timely and personal; their greatest interest was ensuring that our app was developed in the way we envisioned it would be."
The app was created using Bar-Z's mobile application platform and offers a singular, go-to place for business, attraction, recreation and event information. It also provides a full guide to the annual Orange City Tulip Festival which runs the third weekend in May, bringing thousands of visitors to the city.
"Orange City's Dutch heritage and its annual Tulip Festival are unique draws to the city. We are excited to help the Chamber share this tradition and promote local business and events using cutting-edge Smartphone app technology," said Wm. Lee Little, CEO, Bar-Z.
Bar-Z's technology allows new listings to be added to the app at any time, so the Orange City Chamber of Commerce will continue to work with local businesses and organizations to expand content and add more listings. The app also includes local money-saving deals which will continue to increase.
About the Orange City Chamber of Commerce
The Orange City Chamber of Commerce is organized for the purpose of advancing the economic, industrial, professional, cultural and civic welfare of the Orange City area. To encourage the growth of existing industries and businesses, while giving all proper assistance to new firms or individuals seeking to locate in the Orange City area. Learn more at http://orangecityiowa.com/business/chamber-of-commerce/
About Bar-Z
Bar-Z delivers custom branded mobile and web apps faster than a speeding bullet and is an industry leader in the development of these applications. The company delivers creative, editorial and commercial content to people on multiple devices through their leading cross-platform publishing solution. Bar-Z creates apps for a variety of industries including higher education, publishing, broadcasting, destination marketing and tourism. For more information, visit http://www.bar-z.com.